IDB
The Inter-American Development Bank
(IDB)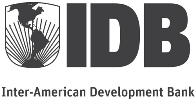 supports efforts in Latin America and the Caribbean countries to reduce poverty and inequality with an aim to bring about development in a sustainable, climate-friendly way.
Established in 1959, it is the leading source of development financing for Latin America and the Caribbean, with a strong commitment to achieve measurable results, increased integrity, transparency and accountability.
Efforts with CSOs and NGOs are of crucial value, not only for fulfilling the objectives of the institution, but also for generating forums for participation that give voice to communities, making all cumulative experience available, generating knowledge, and, above all, ensuring the inclusion of project beneficiaries through a variety of mechanisms.
The IDB focuses on empirical evidence for making decisions and measuring the impact of its projects to increase its development effectiveness. Investments seek to produce tangible and positive results in the lives of beneficiaries and address the most important development challenges in Latin America and the Caribbean. In order to achieve these goals, the IDB has put in place a system allowing the design of sound development projects, monitoring their progress, and measuring their results and impact.