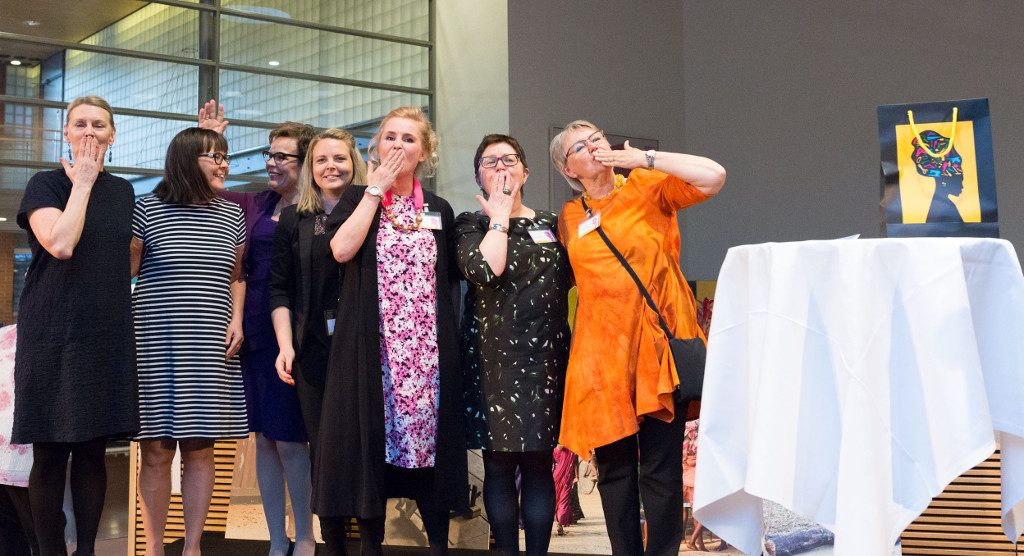 Women's Bank
2017 was a milestone year for the Women's Bank.
After ten years of operations, Women's Bank has raised 12 million euros in funds, offering support to tens of thousands of women and their families. The volunteer network extends across 40 localities in Finland with over 3,000 volunteers.
The decade of operations was celebrated in May in Helsinki. The event was sold out with 300 Women's Bank supporters, volunteers and partners present. Other highlights of the celebratory year included a fundraiser for Women's Bank arranged by retiring Bishop Irja Askola and the yarn campaign jointly carried out with Novita Ltd. In addition to the nationwide events, volunteers organised hundreds of events around the country.
The nationwide Women's Bank Walk to show support for women's employment took place for the eighth year in a row. The walk was organized by volunteers from 70 localities and over 89,000 euros in funds were raised. The largest charity golf tour, Women's Bank Open, a tour of 26 golf clubs, raised over 33,000 euros. The 2017 Women's Bank Read book tour, superbly hosted by the author Rosa Liksom, raised 10,000 euros.
During the anniversary year, Women's Bank raised more funds than ever before – a record amount of 1.7 million euros.
In 2017, the Women's Bank supported the livelihoods and entrepreneurial efforts of 16,000 women in six developing countries: Liberia, Sierra Leone, Uganda, Nepal, Myanmar and Cambodia. The project expenditure was roughly one million euros, of which the share of administrative costs was approximately 16.5 per cent.