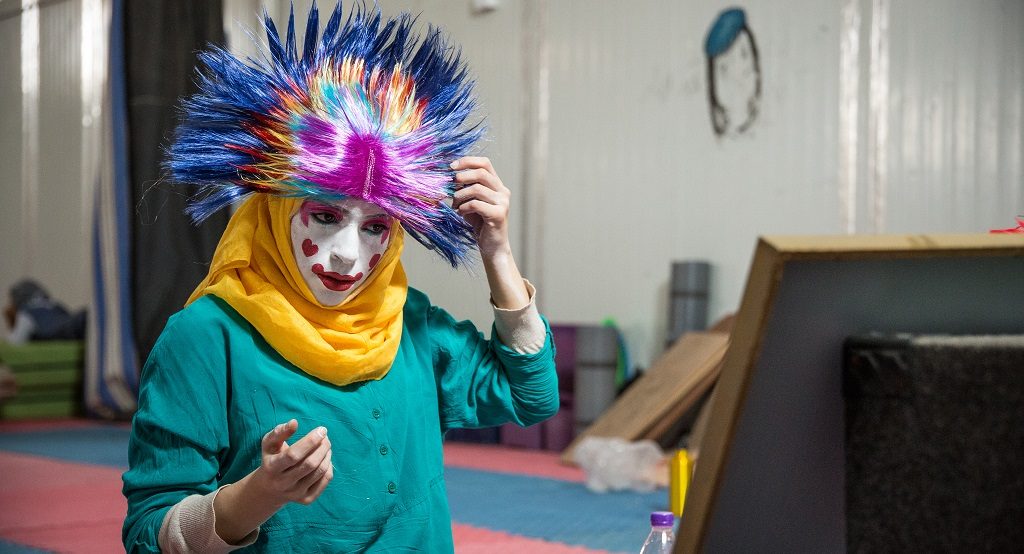 The Middle East 2016
In the Middle East programme, FCA had 23 staff members and five partners.
"The fence built with FCA's help has saved our crops in Deir Ballout from wild boars. It has saved women's livelihoods. My family has enough food again, and the profits from farming cover my children's university fees."

Ibtisam Musa, the Palestinian Territories
"I was forced to drop out of school when we moved because of the war. Self-studying is hard, and you can't learn maths without a teacher. My neighbour told me about the remedial courses organised by Finn Church Aid and I registered for them. The teachers and other staff members are friendly and give us plenty of support."

Aida, Syyria
Syrian refugees received aid in the Middle East
Finn Church Aid's work in the Middle East focused strongly on assisting Syrian refugees in Jordan and Syria.
In JORDAN, refugees were assisted at the Za'atari and Azraq refugee camps and in the capital Amman. The work focused particularly on young people between 12 to 30 years of age, who were offered English classes, IT-skills, craft workshops and vocational training. Literacy training and learning English helps refugees express themselves and makes them more independent.
Young people have also received psychosocial support from sports and other leisure activities, like circus, football, karate and music. These activities have benefited both young people and their parents and have helped people get along better. With growing confidence, young people have begun to draw goals for themselves and make plans for the future.
In SYRIA, FCA has supported education for thousands of young people in cooperation with International Orthodox Christian Charities (IOCC). The war has kept many Syrians out of school for years. With our support their situation has been improved by remedial lessons, school fees and teacher training. The war in Syria, extended to its fifth year, was widely covered in news headlines last year. Last autumn, FCA launched a programme to deliver food assistance to Syrians in war-torn Aleppo and other badly suffered regions.
In ISRAEL and the OCCUPIED PALESTINIAN TERRITORIES, FCA supported human rights training for Israeli youth and agricultural projects of Palestinians.
FCA is the major sponsor of the human rights training organised for future military recruits by the Rabbis for Human Rights organisation. Last year, 800 young people attended the training.
FCA also concluded its fence-building project in Deir Ballout, the granary of the province of Salfit. Plantations in the village suffered from a sever wildboar problem, but thanks to the fences, farmers were able to continue producing food for their families and the rest of the province.