Finances
Based on the funds used for aid work, Finn Church Aid (FCA) is the largest Finnish organisation providing international development assistance. We operate in 14 countries in Asia, Africa and the Middle East.
In 2018, FCA fundraising amounted to 39.3 million euros. Our finances are founded on four major pillars: parish and church contributions, private donations, government funding and institutional funding.
In 2018, we used a total of 40.5 million euros on aid and other operations. In total, 35.1 million euros were used for international aid operations. Domestic operations and general administration costs were 5.4 million euros. Domestic operations include fundraising, communications and training. General administration includes the head office, the finance division and overheads.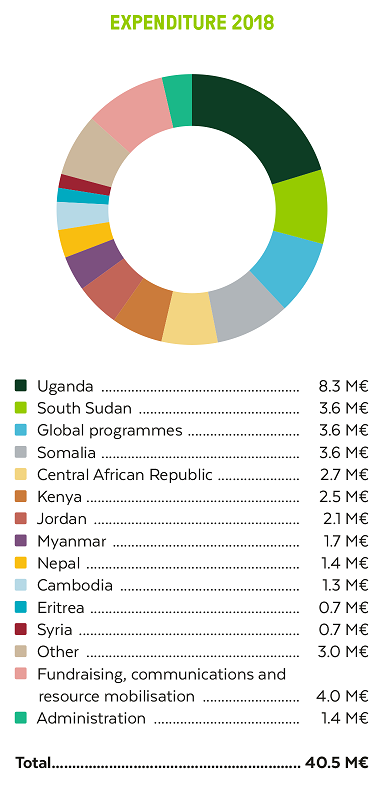 FCA wants to ensure that the available funds are used as productively and responsibly as possible. As one of the main development cooperation organisations in Finland, we have developed an internal audit supported by the board's inspection committee. At the same time, risk management has become a part of our normal operational planning and assessment. FCA is audited by KMPG.
Open the Annual Report 2018 by clicking on the image below. Turn the page by clicking on the arrow on the left side of the page or use the arrow keys on your keyboard.
Annual reports and Financial information from 2018:
Finn Church Aid Annual Report 2018
Global Programme Annual Report 2018
Finn Church Aid Financial Statement and Annual Report 2018
Auditor's Report 2018
Annual reports and Financial information from 2017:
Finn Church Aid Annual Report 2017 (pdf)
Finn Church Aid Financial Statement and Annual Report 2017
Auditor's report 2017
Annual reports and Financial information from 2016:
Finn Church Aid Annual Report_2016
Finn Church Aid Financal Statement 2016
Auditor's Report 2016

Financial information from year 2015:
Finn Church Aid's Annual Report 2015 (pdf)
Finn Church Aid's Financial Statement 2015
Finn Church Aid's Auditors Report 2015

Financial information from year 2014:
Finn Church Aid's Annual Report 2014 (pdf)
Finn Church Aid's Financial Statement 2014 (pdf)
Auditors Report 2014 (pdf)
Financial information from year 2013:
Finn Church Aid's Annual Report 2013 (pdf)
FinnChurch Aid's Financial Statement 2013 (pdf)
Financial information from year 2012:
Finn Church Aid's Annual Report 2012 (pdf)
Finn Church Aid's Financial Statement 2012 (pdf)