Alternative Gifts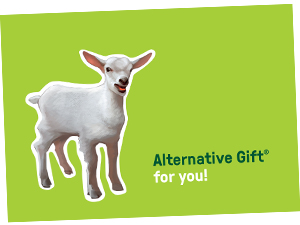 Alternative Gifts are valuable, ecological and ethical gifts. They are a great way to help those most in need, and at the same time delight friends, relatives, or business partners.
These gifts help us secure basic necessities, such as food, security and water, to vulnerable people in catastrophe areas. They support us in improving the livelihood and education opportunities of people in developing countries.
Each gift comes with a postcard or an e-greeting that you can send to your friend. The card contains information about the donation and how it will affect lives in developing countries.
We provide training and other necessary assistance with each gift, which is critical to help people make the most use out of the assistance they receive. For example, someone receiving a goat will be given training on how to sell its milk and use its manure as fertilizer.
Alternative Gifts often form a part of a wider FCA funded development programme. These programmes are always planned with local people who have the best understanding of what their local community needs are.
Get your Alternative Gift from our customer service:
Phone number:
+358 20 787 1201
Price 8,35 cent/phone call + 16,69 cent/min.
E-mail:
toisenlainenlahja@kirkonulkomaanapu.fi
You can also browse available gifts and select yours from our Finnish or Swedish websites.