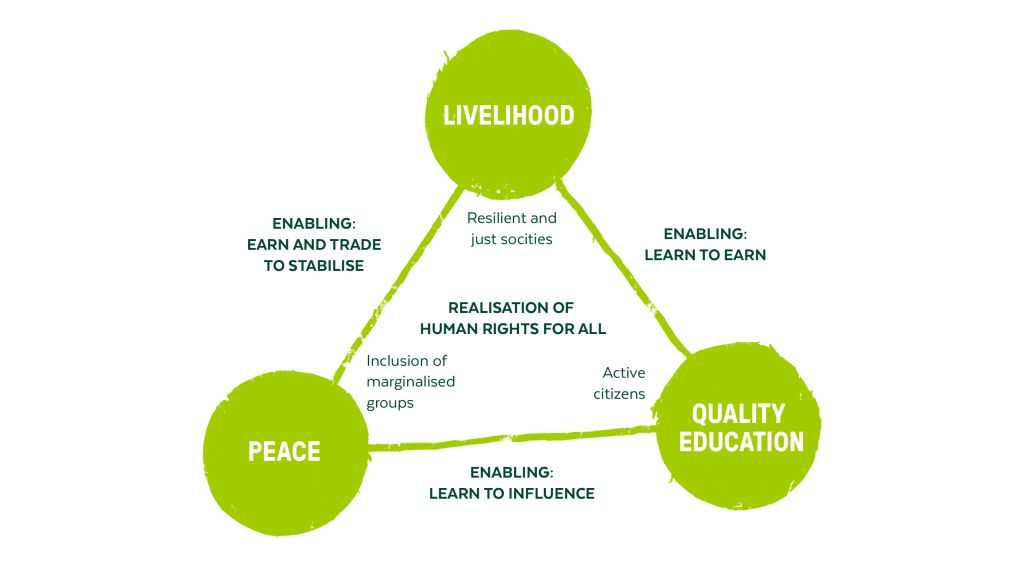 A New Global Programme
The work of Finn Church Aid is divided into three themes that are vital for bringing about sustainable change. The themes are related to the rights of the individual, meaning that everyone has the right to live in peace, to receive quality education, and to earn a sustainable livelihood. These themes are interrelated and mutually dependent. Together they form Finn Church Aid's programme framework, which also includes issues related to gender and equality. Depending on the challenges and the operational environment, we can engage in development cooperation, provide humanitarian assistance, conduct advocacy outreach, or make investments. The implementation of these rights is threatened especially in fragile contexts, which is why working and being present in those countries is a top priority for FCA.
The new six-year programme period of FCA began in 2018. Our work is grounded on rights-based approach and intervening in the causes of poverty and injustice are at the core of it. Within the framework of the new programme, we are creating new opportunities for people and strengthening the ability of individuals and communities to respond better to societal changes. The work of Finn Church Aid especially improves the opportunities of youth, women, and people affected by different kinds of crises and conflicts to gain sustainable livelihoods and well-being as equals with others. For this, we need new businesses and jobs, as well as the knowledge, skills, competencies, and networks required for people to gain employment or run a business.
Quality education is a human right. It opens channels to livelihoods and gives people faith in the future. By supporting the impartiality of education, we can ensure that everyone receives the support they need. FCA also strengthens the ability of the teaching sector authorities to assume responsibility for the development of better learning opportunities. Education can also promote peace and give people valuable tools to avoid and resolve conflicts. Schooling also protects children and youth in unstable conditions.
The peace work of Finn Church Aid supports all-round involvement where young people, women, and refugees, as well as religious and traditional actors, are at the center. Additionally, FCA provides special support for the participation of women and young people in decision making and advocating for themselves. Extensive participation ensures that their voices can be heard when planning a common future.
Supporting the increased social activity and influence of communities and groups of people in disadvantaged positions is at the core of the new programme. At the same time, we are engaging in cooperation with local authorities so that the knowledge about their obligations and their ability to respond to these will grow. By bringing together rights-holders and those responsible, we promote local ownership, involvement, and accountability, and lay the foundation for the sustainable reduction of poverty.