Emergency Food Assistance for IDPs in Mundri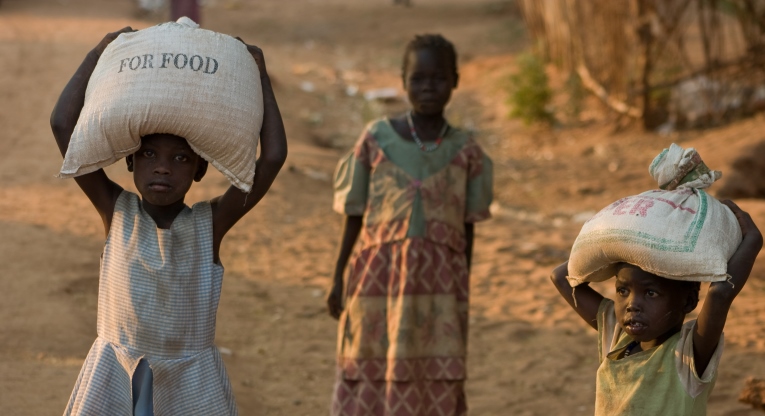 Key Facts:
Total budget: CAD 422,928
Proposed Start date: 16 June 2014
Duration: 3 months
Direct beneficiaries: 11,979 IDPs
Project Objective: The project objective is to contribute to household food security and reduce the risk of water borne diseases by providing food assistance and access to clean and safe water to people affected by displacement in Mundri County.
Finn Church Aid (FCA) is providing emergency food assistance to IDP's in Western Equatoria state, in cooperation with a long term local South Sudanese partner organisation, the Mundri Relief and Development Association (MRDA), the South Sudan Relief and Rehabilitation Commission (SSRRC), and the South Sudan Episcopal Church (ECS). The action will contribute to emergency food assistance to help reduce the risk of hunger and malnutrition and prevent death among the most vulnerable communities, from food insecurity and poor nutrition in IDPs camps, diseases associated with lack of proper health services, lack of clean and safe water, and poor sanitation. This humanitarian assistance project will cover three components, namely: (i) food distribution to IDPs to secure food for the vulnerable and support those who are engaged in food production under the ACT Appeal/FCA funded project; (ii) provision of clean and safe water through testing and repair of existing boreholes in host communities, and (iii) community sensitisation/mobilisation on current situation and on the possibility of prolonged and worsening displacement situation. The project is funded by the Canadian Food Grains Bank (CFGB).
The project plans to support 11,979 IDPs during the next 3 months to achieve access to food and ensure they consume 2 full meals a day. This will ensure they are healthy and have enough energy to work both on common interest activities and to cultivate in order to supplement and replace the food assistance by food from their own labor. The two meals a day will also help the younger IDPs to stay and cope better in school. It will also help the nursing mothers and their babies to fare better.
Main outcomes:
• 11,979 will receive Maize Flour, Beans, Cooking Oil, Salt and Sugar equivalent to one meal per day for 3 months.
• 11,979 individuals will consume 2 full meals a day.
• Minimum of 3 types of community assets repaired/rehabilitated (fencing of Health Centre, fencing of ECS compound, rehabilitation of Bangolo bridge, maintenance of water point areas and weeding of crop fields planted under the ACT Appeal Project.)
• IDPs and host communities will report reduced level of water borne diseases and reduced level or absence of conflict due to lack of adequate safe water.