UNHCR
UNHCR, the United Nations' Refugee Agency, is a global organization dedicated to saving lives, protecting rights and building a better future for refugees, forcibly displaced communities and stateless people.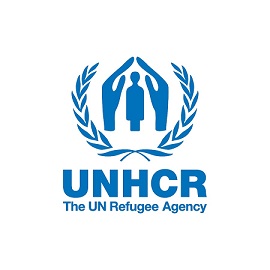 UNHCR maintains strategic partnerships with more than 900 partners including non-governmental organizations (NGOs), governmental institutions and United Nations agencies. UNHCR entrusts about 40 per cent of its annual expenditure to partners for undertaking programmes or projects to provide protection and solutions to people forced to flee.
UNHCR has been working with NGOs since the early 1950s. In 2007, UNHCR adopted the Global Humanitarian Platform's Principles of Partnership that set out common standards of equality, transparency, complementarity and a results-oriented approach among all humanitarian groups. The Annual Consultation with NGOs includes a range of national and international NGOs from around the world. It provides an important forum for NGOs and states to network, dialogue and exchange views with UNHCR as equal partners – an approach that NGOs welcome. Today, UNHCR relies heavily on NGOs to implement a wide range of projects, including aid distribution, protection, logistics, shelter, health, water, sanitation, nutrition and education projects.
UNHCR funded FCA projects:
Country: Uganda
Project name: Secondary and vocational Education Management in Westnile (Moyo & Palorinya) (FCA code 11954)
Period: 01/01/2018-31/12/2018
Budget (grant): 207,000 €
Country: Uganda
Project name: Increasing access to Business, Technical, Vocational Education and Training and Secondary Education (11953)
Period: 01/01/2018-31/12/2018
Budget (grant): 235,000 €
Country: Uganda
Project name: Education and Livelihood Response to South Sudanese Refugees in Bidibidi and Omugo refugee settlements (FCA code 11952)
Period: 01/01/2018-31/12/2018
Budget (grant): 750,000 €
Country: Uganda
Project name: Provision of Primary Education and Livelihood Interventions in Omugo and Bidibidi Settlements, Yumbe District (FCA code 11851)
Period: 01/05/2017-31/12/2017
Budget (grant): 1,691,000 €
Country: Uganda
Project name: ReHOPE – Micro Entrepreneurship Training for Refugee Youth in Rwamwanja Settlement (FCA code 11941)
Period: 01/10/2017-31/12/2017
Budget (grant): 57,000 €
Country: Somalia
Project name: Voluntary return and re-integration for Somalilanders returnees from Yemen (Phase III) (FCA code 11727)
Period: 01/04/2016-31/12/2016
Budget (grant + co-funding): 176,000 + 11,000 €
Country: Somalia
Project name: Voluntary return and re-integration for Somalilanders returnees from Yemen (Phases I and II) (FCA code 11665)
Period: 10/10/2015-31/12/2016
Budget (grant + co-funding): 147,000 + 17,000 €