CFGB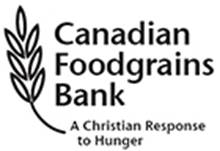 Canadian Foodgrains Bank (CFGB) is a partnership of 15 Canadian churches and church-based agencies working together to end global hunger by:
Supporting international programmes to meet immediate food needs, reduce malnutrition, and achieve sustainable food security.
Influencing improvements in national and international policies that contribute to ending global hunger.
Increasing and deepening the engagement of Canadians in efforts to end global hunger.