School reconstruction project in Haiti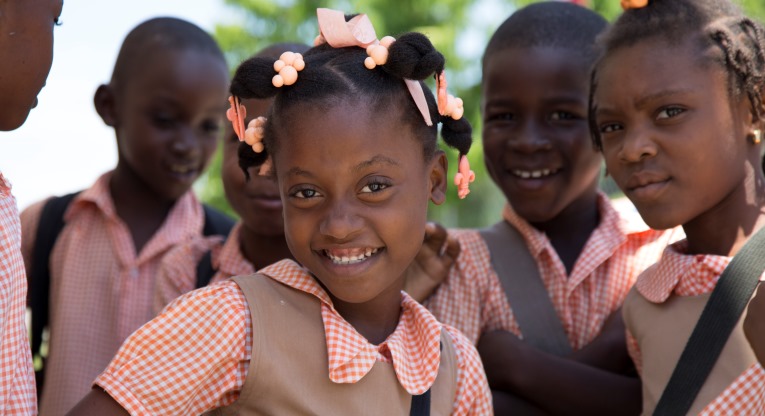 Key Facts
Total budget: €6 million
Start date: 2014 – 2015
Duration: 2.5 years
Direct beneficiaries: 450 students per school
Finn Church Aid (FCA) is building ten community schools in Haiti, in cooperation with the Inter-American Development Bank (IDB). IDB supports Haiti in an overall reform of their education system, with the Finnish Ministry for Foreign Affairs as one of the sponsors. FCA has been chosen to construct the schools due to its in-depth experience in school construction since the aftermath of the 2010 earthquake in Haiti. The schools will be built by contractors following the new school plan of Haiti's Ministry of Education, developed in collaboration with the Swiss Cooperation to endure the challenging Haitian context. The schools will also provide shelter in case of natural disasters, as Haiti is situated on two seismic fault lines and in the route of hurricanes.
Each school has 9 classrooms for pupils and 2 classrooms for pre-school accommodating approximately 450 students per school. Most of the schools, where the construction area is sufficient, will be equipped with an administration building, including an office for the director and a working room for teachers, an equipped library, sanitary facilities, a school canteen and a kitchen. Each school will also have energy and water systems, individual chairs and desks, and will be accessible for disabled children.
The school buildings shall be completed by the end of 2015. The locations of the schools have been determined by the Ministry of Education as per actual needs.
Main outcomes:
Improve access to education.
Improve/increase education quality.
Provide safe and durable learning spaces in communities where a school doesn't exist.
Reduce education costs where community schools are not available.
Build schools that are accessible for children with disabilities.