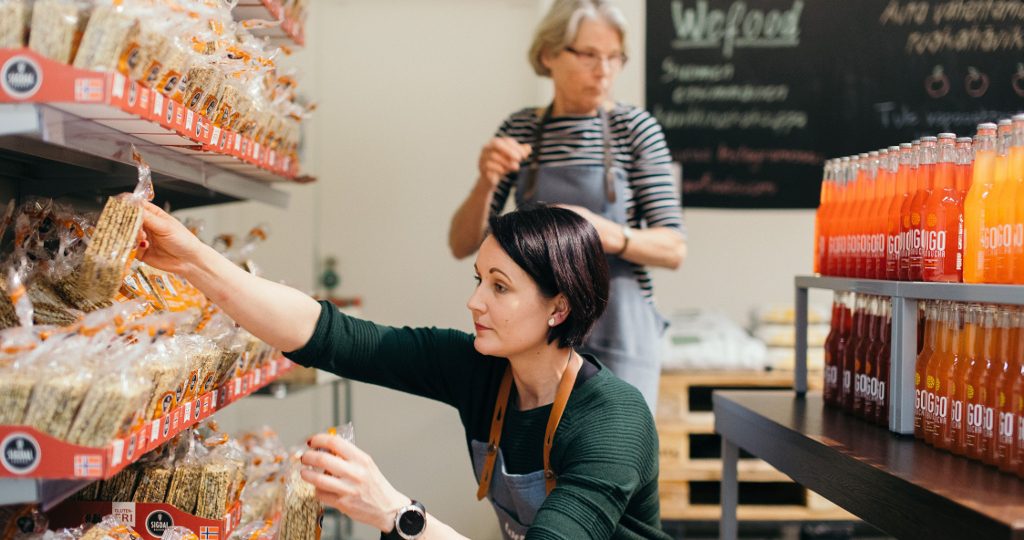 WeFood
A new volunteer network for fca in 2018
WeFood has already "rescued" 30 tonnes of food. Finn Church Aid opened the first surplus food supermarket in Finland on 20 September 2018. The supermarket is situated in the Redi shopping centre in Kalasatama, Helsinki. Already, WeFood has reduced the amount of surplus food wasted in Finland by more than 30 000 kilograms by selling surplus food donated by manufacturers, importers, wholesalers, retailers, and producers. Additionally, the supermarket has sold more than 5 000 litres of beverages. All this edible food would have gone to waste without WeFood.
The supermarket has attracted a great deal of interest. Representatives of about 15 media outlets attended the WeFood opening and the supermarket was mentioned more than 30 times in various publications during the autumn of 2018.
As a concept, WeFood is based on volunteer activity. Volunteers serve customers at the supermarket, place the products on the shelves and take care of the operations and comfort of the place. Logistics volunteers collect the batches of surplus goods received as donations and bring them to the supermarket. Some 130 volunteers are involved in the WeFood project.
The sold products are batches of surplus goods, which would otherwise go to waste. Around 15 different cooperation partners donated surplus goods in 2018. These partners included exporters, wholesalers, manufacturers, and retailers. Additionally, WeFood engages in cooperation with Nissan. The surplus goods are transported in a Nissan e-NV200 electric van.
WeFood has also engaged in cooperation with an educational institution, Perho Culinary, Tourism and Business College. The students have become familiar with the supermarket operations by doing trainee shifts. Additionally, one of the students has completed their traineeship at WeFood. About ten groups of school children from various primary schools in Helsinki visited the supermarket during the autumn.