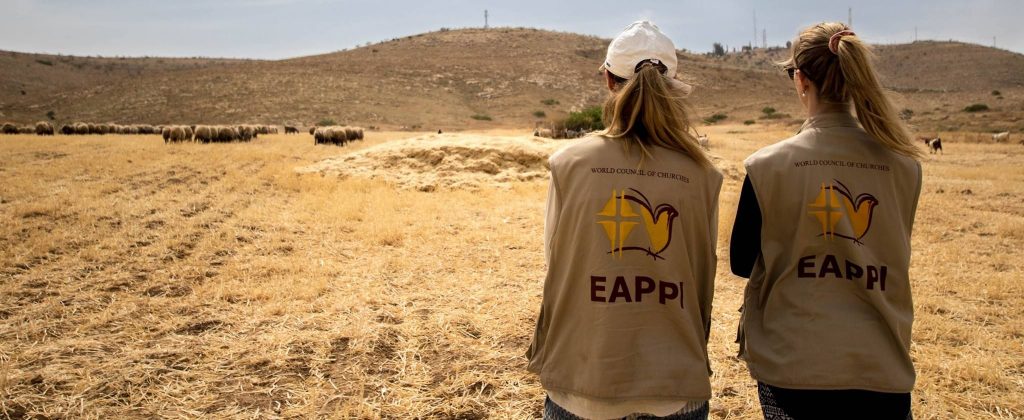 EAPPI
11 Eappi-volunteers promoting peace in the West Bank
The Ecumenical Accompaniment Programme in Palestine and Israel (EAPPI) is an ecumenical initiative, which supports local and international efforts to end the Israeli occupation and bring a resolution to the Israeli-Palestinian conflict based on international law and United Nations resolutions.
In 2018, FCA deployed 11 volunteers to Occupied Palestinian Territories with support from the Ministry of Foreign Affairs. Out of the 20 countries participating in the EAPPI programme, Finland is one of the largest contributors.
The EAPPI volunteers were deployed in the West Bank, where they offer protective presence to vulnerable communities and monitor the compliance of the international humanitarian law and human rights in the Occupied Palestine Territories. Following their deployment period, volunteers participate in advocacy work mainly in Finland. They advocate civilian protection and policy change, affirming respect of human rights and international humanitarian law, and urging the international community to actively promote a just peace for both Israelis and Palestinians.
In May 2018 EAPPI had a large visibility and advocacy campaign in May 2018 "Prisoned for a post – The virtual dimension of occupation" including social media campaign, exhibitions, school visits and presence in the World Village festival. The exhibition in Sanomatalo reached approximately 250 000 viewers.
During 2018, EAPPI was more visible in Finland's largest media outlets than previous years. EAPPI Volunteers were interviewed regarding the situation in IOPT, in the Helsingin Sanomat, MTV, YLE and several other smaller media outlets.