Female teachers pave the way forward: "My voice is heard, and I have a place in my community"
5.3.2021
Despite multiple challenges, teachers worldwide keep doing their job because they know that education is the key to a brighter future. Three female teachers share how they found their place in the classroom.
Syria/Uganda.
Of an estimated 80 million teachers in the world, more than half are women. They are everyday heroes who face their share of challenges each day but also role models for countless girls who enrol in school.
A competent teacher is a child's gateway to society. Surrounded by war, teachers in Syria settle their pupils in their classrooms and help them forget the reality outside school, even if just for a moment. In a Ugandan school for children with disabilities, the world opens up when both teacher and learner know sign language.
A school should be a safe place to grow up in, but this is not always the case. The Global Coalition to Protect Education from Attack (GCPEA) reported at least 11,000 attacks on education worldwide between 2015 and 2019. Attacks refer to actions such as bombings, kidnappings, or sexual violence directed at pupils or staff. The threat of attacks is real in Syria, a country living with war for almost ten years.
During the past year, education has faced new kinds of challenges. According to experts, the school closures caused by the pandemic may have far-reaching consequences for an entire generation. As schools reopen, there is a lot of catching up to do, and the new normal comes with practical challenges.
Below, three female teachers share their story. One is worried about the children freezing in school, while another faces doubts because of her age and gender. A third teacher hopes for more resources for special needs education. Despite the challenges, they all think they are on the right path as teachers.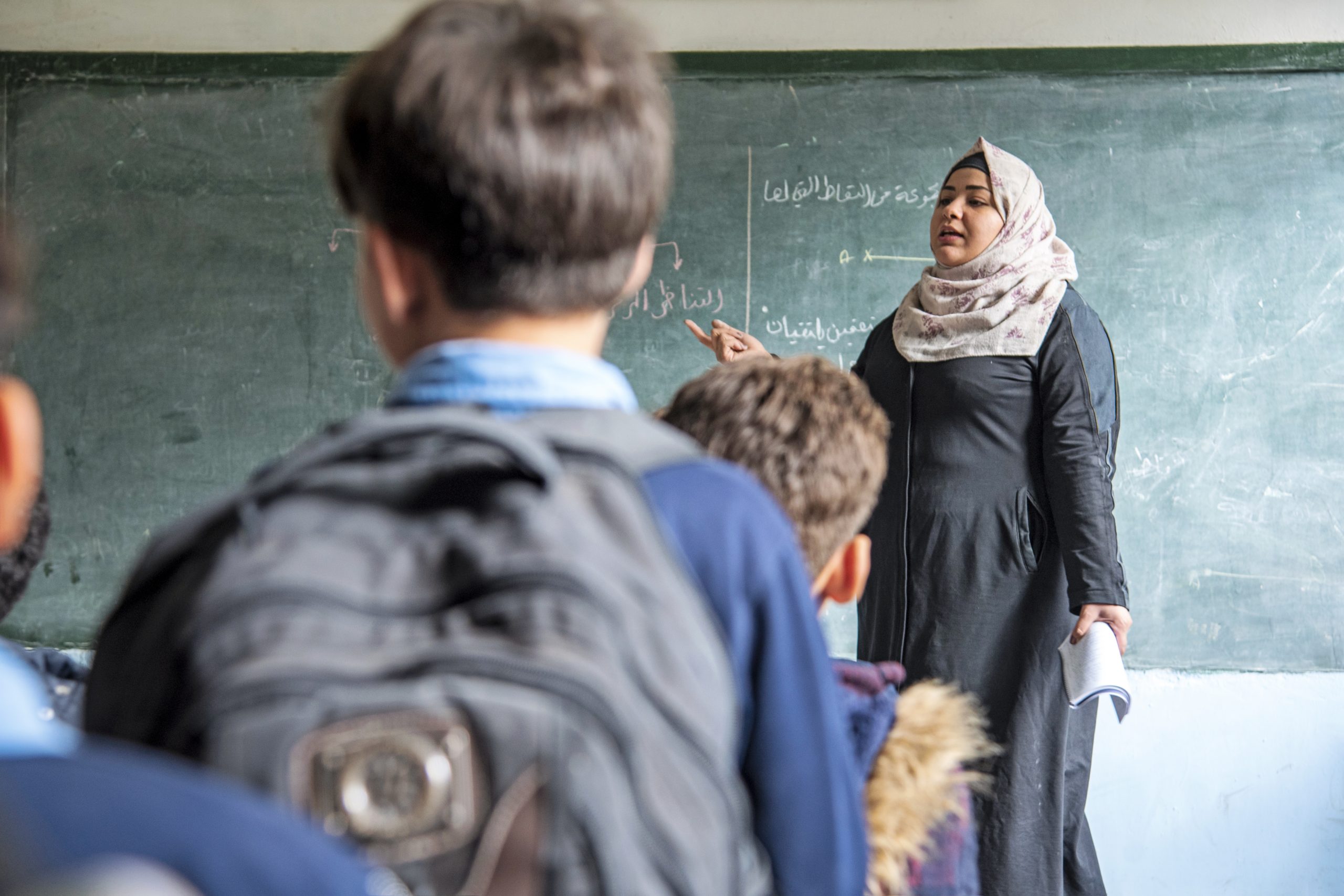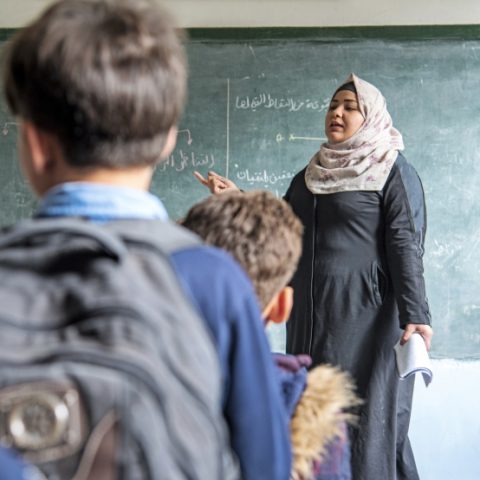 "To survive here, you need to let go of fear"
Marwa Omar Safaya, 23. Computer science teacher at Zein Al-Abdin Safaya school in Eastern Ghouta.
"There are many orphans in my school. Some suffer from injuries inflicted by the war, and many of the children are also forced to work. For example, working on construction sites, they have to lift items twice as heavy as themselves. Their innocent faces show how tired they are, and finally, they forget what the life of a child should be like. All they know is that they need to work to live.
In the middle of all this, I have found my happiness in teaching. My career as a teacher started two years ago, and everything went well, but my salary wasn't enough to cover my living expenses. I had to take a second job at a dentist's clinic.
The war has destroyed almost everything. To survive here, you need to be willing to face all kinds of hardship and to let go of fear. In the evening, after a hard day's work, I walk home in the streets of the nearly deserted city without lights and people – only stray dogs creating an eerie atmosphere.
The school does not have suitable teaching supplies, like proper chalkboards or even clean water.
The water tanks are filled from a nearby well, but nobody monitors the quality of the water. I am worried that the water is dangerous for the small children at the school.
On harsh winter days, I have noticed how some pupils' hands turn blue. Their tiny bodies are not protected against the cold because these days, a coat's price may be equal to a month's salary.
We try and ensure our pupils that life has a lot to offer and that miracles are made by going to school and working hard. Still, at the end of the day, all they're thinking about is how to finish their mandatory education to find work and get food on the table.
I think I might get married at some point or move somewhere else and leave this desperation behind. I hope my pupils get everything they need to reach their dreams and have a brighter future."
"My exhaustion fades when I see the children learn"
Dania Mohammad Zuhair Hamza, 23. Teaches mathematics, physics and chemistry at Saqba school in Eastern Ghouta.
"Working as a teacher warms my heart. I treat my pupils like my siblings, and they respect me and what I offer them.
Being a young female teacher is also challenging because the community watches me and doubts my ability to keep a classroom full of teenaged boys in check.
I study mathematical statistics at Damascus University and became a teacher when my mother, who works in a school, told me that my current school was short on teachers. Hearing that filled my heart with sorrow. I knew I had what it takes to respond and help the children in these difficult times.
I teach mathematics, physics, and chemistry at my school in rural Damascus. My passion for teaching has motivated me to arrange my affairs to have time for housework, university studies and teaching. My exhaustion fades when I see that my pupils are learning.
During the war, my family and I lived in Eastern Ghouta, and our life was full of suffering. The situation taught us a lot. The most important thing we learned was that life doesn't end when we lose the people we love – we all have the capacity to overcome tragedy.
I was a schoolgirl when my father died, and I have now also lost my brother. Once my sister got married, I became the eldest sibling in the household. To help us survive the difficulties life presented for us, my mother began teaching, and I had to take care of household chores in addition to studying.
I have overcome the tragic circumstances in hopes of a better life, and I now feel stronger than I have ever been. My voice is heard, and I have a place in my community, and nobody can take those things away from me. I have attained free will and am not controlled by my family members, which would have been bad for me. I believe a woman can become stronger only when she is free."
"The pupils here are exactly the kind I want to teach"
Bazio Rose Ajax, 34. Uganda. Special needs teacher at Pakele school in Uganda.
"Pakele Girls school has 34 deaf pupils and a total of 150 pupils with special needs.
I have seen many pupils suffer before I came to this school, and very few people knew how to help them.
I started studying special needs education because I wanted to support those in need.
The skill of being a teacher comes from within. I wanted to be a teacher since primary school and by now, I have taught in Adjumani for ten years. This is my fifth year at this school.
The pupils here are precisely the kind I want to teach and I appreciate that Finn Church Aid has provided us with additional training. My sign language skills were not very good before, but now I have made tremendous progress. We need more teachers to teach deaf pupils.
I have not had difficulties as a female teacher, but the Covid-19 pandemic has brought all sorts of challenges. When the schools were closed, we as teachers felt lazy and bad about ourselves. We worried about the pupils giving up and now that they are back, we have a lot of catching up to do in teaching. We also have to wear masks, making it more challenging to interact with deaf pupils who need to lip-read.
Education is critical. First of all, it raises the pupils' self-esteem, and secondly, it helps pupils gain autonomy. Without education, it would be difficult to adapt to society."