Cut backs on development cooperation threaten the people in the most vulnerable situations
10.6.2015
The Finnish government is planning to cut national development cooperation funding by 43 %. This means that work in some countries is in danger of halting completely. Millions will be left without aid.
"The cut backs are more than dramatic for NGOs and humanitarian aid. This can make the function of many NGOs very difficult if not impossible. That not only results in unemployment, but leaves millions of people without relief they desperately need. In this way, Finland is playing a part in increasing the refugee floods towards Europe."
– Jouni Hemberg, Finn Church Aid Executive Director.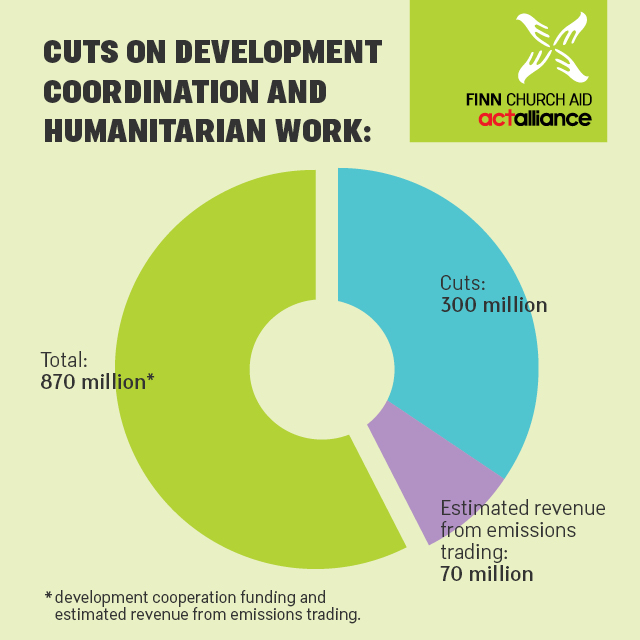 "Finland will become a light-weight in development cooperation. The Finnish funding for development cooperation will drop to around 0.3 % of gross domestic product. That's the level set as a goal by the EU to countries like Romania and Bulgaria. All of this sends a clear message that Finland is not committed to international cooperation."
– Katri Suomi, Finn Church Aid Global Advocacy Advisor.
1.5 billion taken from the people of developing countries
When announcing the new government policy accord, Prime Minister Juha Sipilä promised that everyone will be taken care of. The proposed cut backs, however, are directed towards the most vulnerable people on the planet.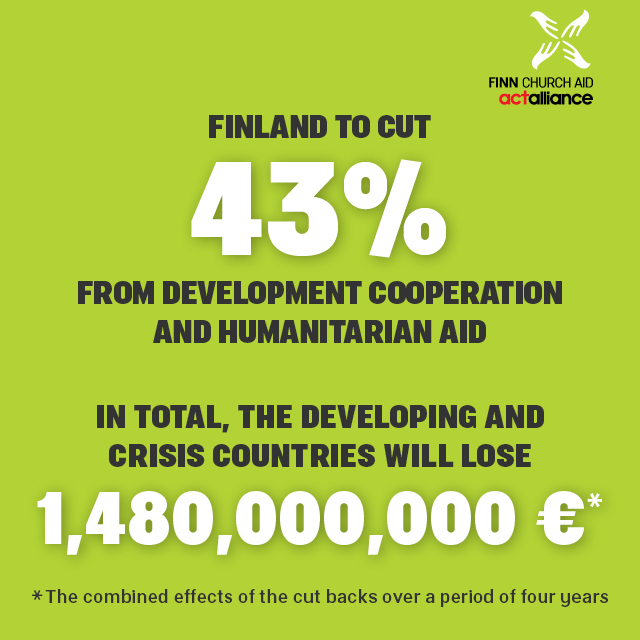 Finland's capacity to react to catastrophe situations will collapse
"If the development aid budget is cut by as much as 43 %, as the government has planned, it should be noted that the cuts not only affect long term development cooperation, but emergency aid as well. That means that our capacity to help people in catastrophes is severely impaired."
– Eija Alajarva, FCA Head of Humanitarian Assistance.
With national development cooperation funds Finn Church Aid
Secures life and human dignity
Works with local communities so that they could later help themselves
Provides emergency relief in regions affected by natural disasters or conflicts
Improves opportunities for livelihood
Secures education for children and young people
Builds peace locally
Promotes gender equality and women's chances to work for their communities
Builds a more just society.