Cash transfers in Myanmar are changing lives for the better
The confluence of the COVID-19 pandemic's economic downturn, political instability, and escalated civil conflicts since February 2021 has cast a shadow of financial hardship over countless lives in Myanmar.
A STAGGERING 67% of the country's population, including the once-thriving Chin State, grapples with the harsh grip of poverty.
While maintaining a focus on education work in Myanmar, FCA also supports livelihood opportunities and humanitarian assistance with interventions such as cash transfers to beneficiaries.
Three people in Chin State, whose lives have crossed paths with FCA's work, recently shared their stories.
Van Cung's Journey of Hope
Van Cung is a 56-year-old resident of Thantalang Town, surrounded by teal-hued mountains and sandwiched by Vuichip and Marau peaks. The two rivers serve as the lifeblood of its inhabitants. In times gone by, it was hailed as one of the most prosperous towns in Chin state.
A devoted teacher with 24 years of experience, Van Cung poured his heart into educating the youth of Chin State in Thantalang. His dedication was unwavering even during long hours of teaching. On a modest salary of about 300,000 MMK (approximately 115 Euro), he supported his family of five, finding joy in meaningful work and the love of his kin.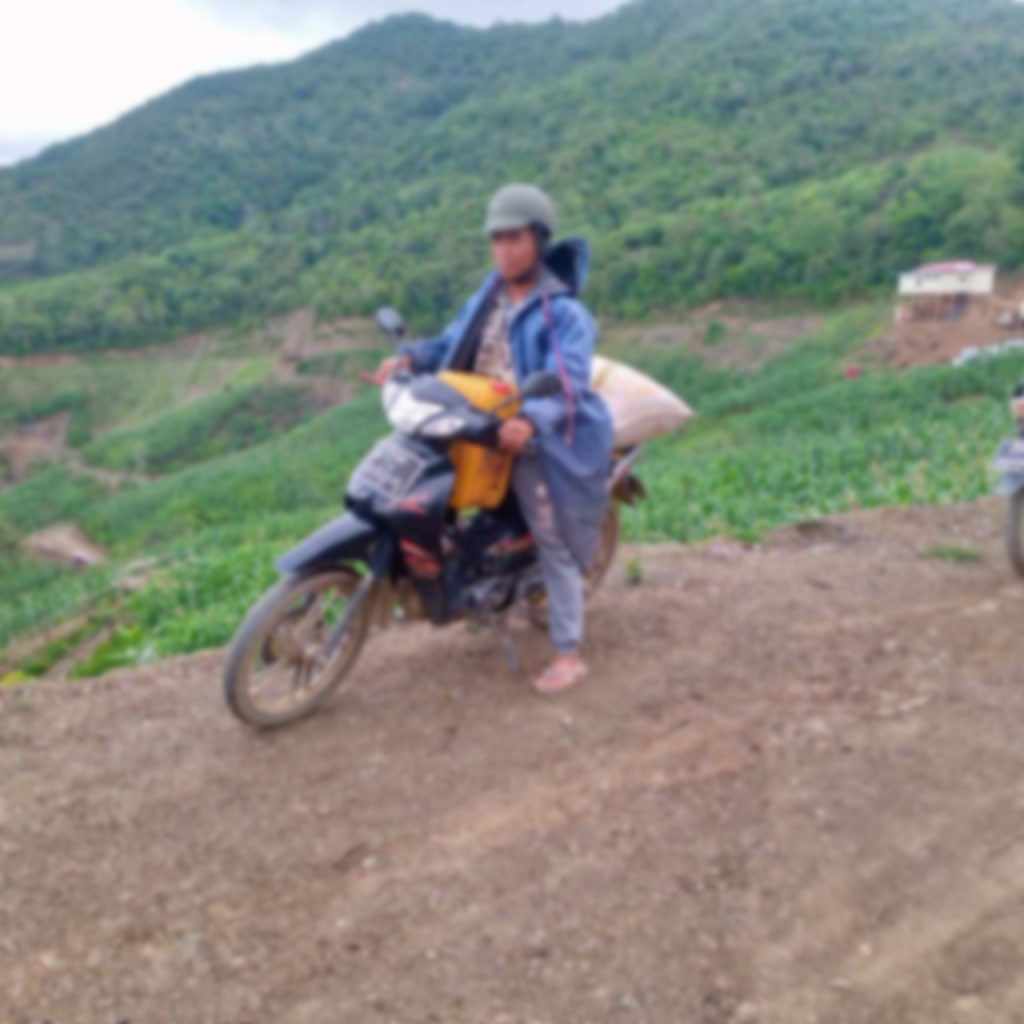 However, fate took an unforeseen twist. The coup of February 2021 unleashed waves of unrest and protests, causing the education system to collapse nationwide, including in Chin state. The schools closed, leaving him unemployed. Adding to the turmoil, a devastating incident unfolded on November 19, 2021.
During a military campaign, 164 houses in his town were burned down. The destruction escalated, resulting in the loss of 900 houses and 19 religious structures to the fire. Van's home was one of these —looted, burned, and reduced to ashes. This tragedy left his family with only an aging motorbike. Even now his voice quivers as he expresses his sorrow,
"My life has been shattered beyond imagination. I never fathomed such profound loss, even in my darkest dreams."
In search of safety, he traveled with his family and aging bike to Zephai village, situated 44 miles away near the Indian border. The host community welcomed them with temporary shelter and food, yet the village was overwhelmed with families seeking refuge, resulting in overcrowding and limited resources. Van Cung turned to farming on available vacant lands, but the yield hardly alleviated his family's hunger.
FCA provided 150,000 MMK (approximately 57.55 Euro) in humanitarian cash assistance to support his family. This aid was transformative. With this assistance, Van Cung embarked on a two-day journey on foot to Hnaring sub-town to buy spare parts to repair his motorbike. With the restored bike, he devised a plan to sell petrol. In nearby villages, he began selling fuel, earning a daily income of 20,000 MMK—a lifeline for his family.
Van Cung's impact extends beyond his household. He now extends a helping hand to his community by ferrying patients on his motorbike to the medical center, navigating the winding roads of the Chin Hills.
"I am deeply thankful to FCA for their invaluable support, which has been a lifeline for individuals like me in Chin State. My hope is for their compassionate efforts to continue reaching the Chin Hills, touching more lives in need."
Iang Ku's Path to Self-Sufficiency
In a quiet corner of Chin State's Haka Town resides Ms. Iang Ku, a resilient 30-year-old woman sharing her life with her 90-year-old father. Nestled on a small highland peak, Haka Town rises over 6,000 feet above the earth, compact yet proudly serving as the capital of the entire Chin State.
She and her father once owned a shop, selling cherished Chin traditional dresses, bringing in a steady income of about 20,000 MMK per day. But life's tranquility was shattered by the echoes of a turbulent coup, rewriting their narrative in an instant.
Amidst the upheaval, a powerful explosion rocked their home, leaving them with their lives but taking away their possessions and livelihood. To take refuge, they fled to Sialam Village situated 54 miles away. For three days, they traveled on foot, enduring hunger and uncertainty, surviving on foraged fruits and vegetables along the route.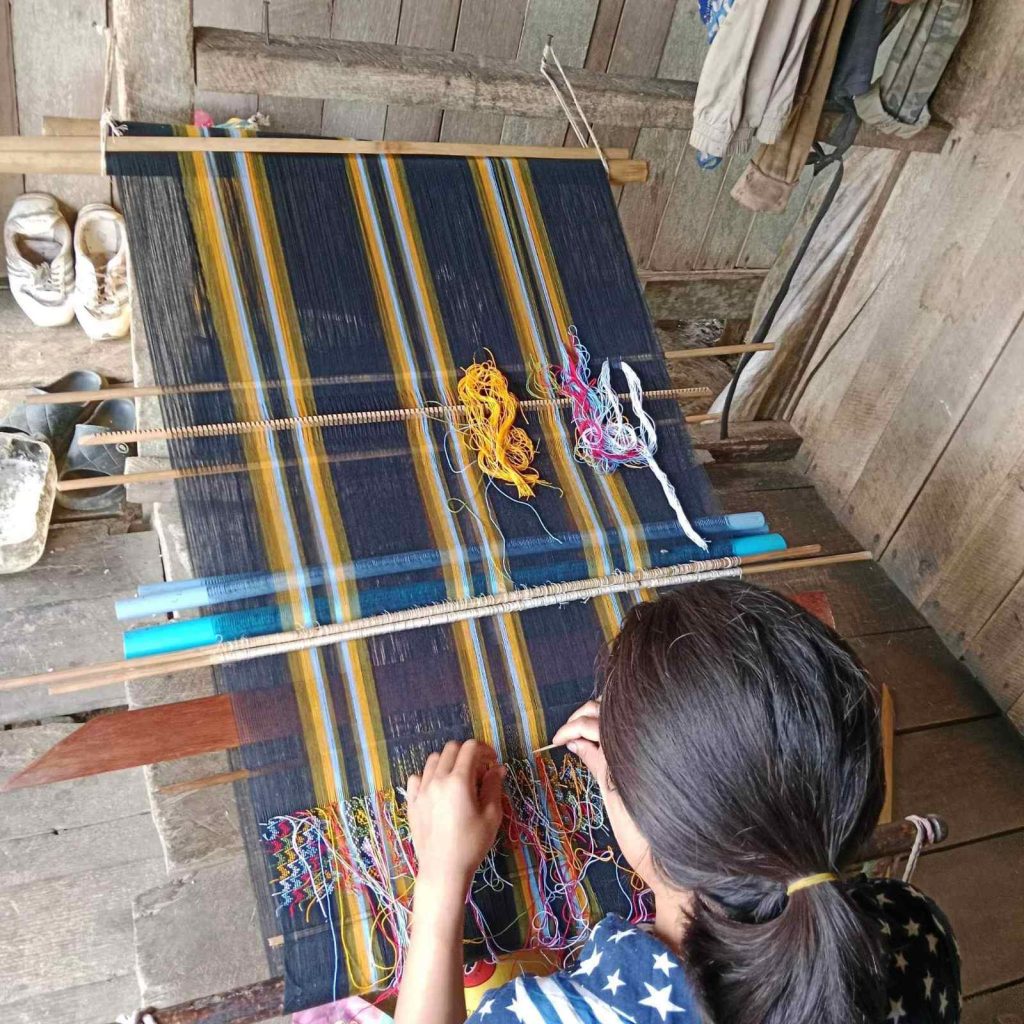 Despite the community's generous hospitality, aid was limited due to their responsibility for a significant number of internally displaced people. Iang Ku experienced profound disappointment and a sense of hopelessness regarding their future survival, especially given her father's chronic illness. With a heavy heart, she lamented, "I feel as though I could perish alongside my father."
Like Van Cung, she also received humanitarian aid from Finn Church Aid, amounting to 60,000 MMK (approximately 115 Euro). She invested the entire sum into crafting traditional weaving products, which hold a high market value. With this assistance, she acquired the necessary equipment for traditional weaving production.
She started earning 8,000 MMK within a few days by selling her textiles. Her monthly income gradually ranged between 5,000 to 20,000 MMK. As her earnings grew, she could afford more materials for weaving. She now earns more than enough money to meet her family's needs and generously assists those in need within her community.
Actively engaged in church activities, she finds herself counting the blessings of her transformed life. "With determination and assistance, I've woven a new life, now able to offer hope and help to those in need," she shares.
Naw Bik's Tale of Transformation
Naw Bik, a 47-year-old resident of Thantlang Town, was employed as a lower division clerk at the Ministry of Home Affairs. His monthly income of 280,000 MMK (107.5 Euro) provided for his family of four. However, when political turmoil erupted on February 1, 2021, he was compelled to leave his job, causing financial strain that cast his family into a state of food insecurity.
In October 2021, amidst the chaos in Thantlang Town, he and his family, like many others, sought refuge near the India border. They embarked on a grueling 41-mile journey on foot, traversing rugged terrain over two days, carrying what little belongings they could. The path was challenging, marked by steep inclines and treacherous footpaths.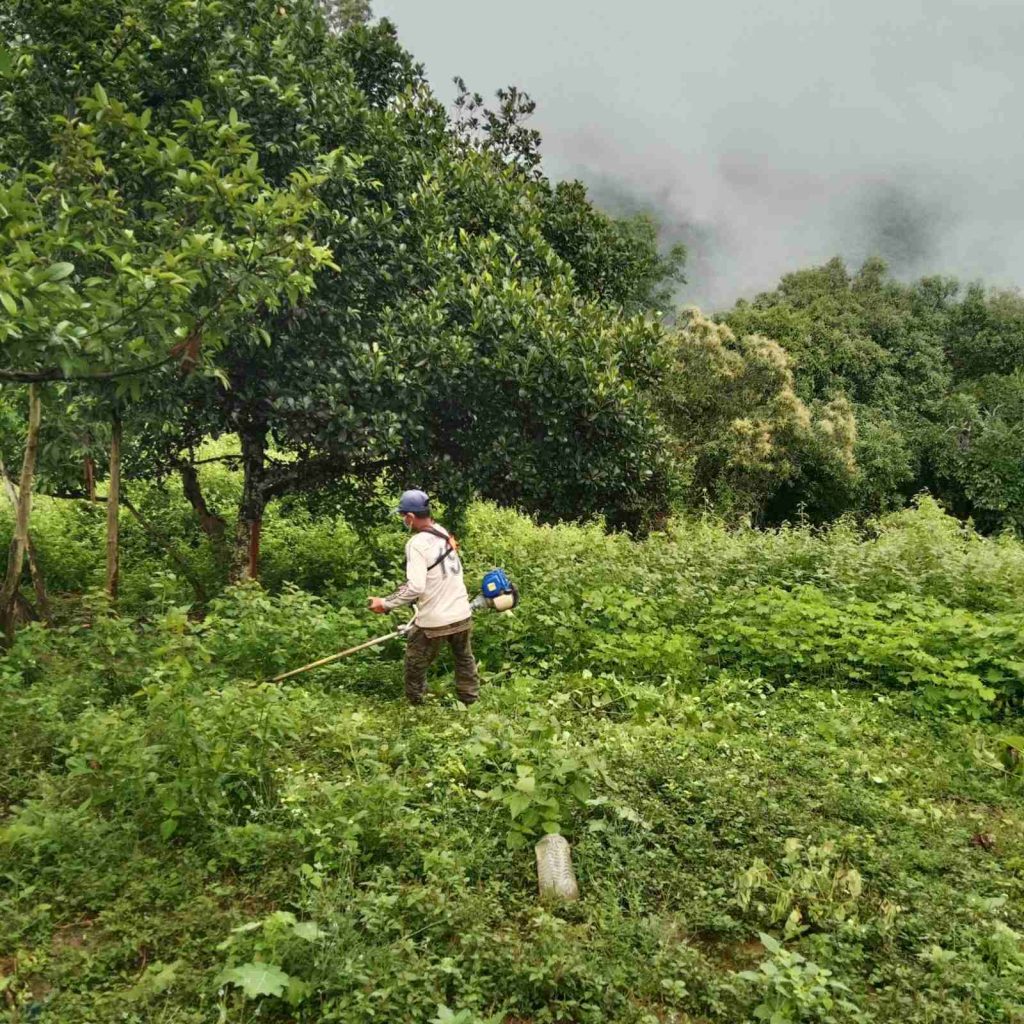 Upon reaching Tlangpi village, his family's spirits were lifted by the warm welcome of fellow villagers. Despite the uncomfortable living conditions, they found solace among other internally displaced families.
In response, FCA provided 120,000 MMK to address the family's livelihood crisis. This assistance ignited Naw Bik's determination. He invested in a grass trimming tool and secured work at an Elephant Foot Yam and Strawberry farm, earning 10,000 MMK per day and a monthly income of 240,000 MMK. This newfound stability eased his family's daily needs.
Reflecting on his journey, Naw Bik expressed profound gratitude for the unexpected support that reinvigorated his family's means of survival. The generosity of strangers through the project inspired him to lend a hand to others grappling with conflicts and crises. He stressed the ongoing importance of humanitarian aid in Chin State, where many silently endure for survival.
Read more about FCA's work in Myanmar.