Upgraded school facilities and trained teachers improve the well-being of students in Northern Uganda
21.12.2017
FCA and the European Union construct 28 blocks of 84 classrooms, 28 blocks of 140 stances of inclusive gender-segregated pit latrines and 40 teachers houses in Bidibidi and Omugo refugee settlements to ensure a safe and inspiring learning environment for South Sudanese refugees.
The cheers from Para elementary school travel a great distance from the schoolyard. Classes finish at 16.00 and the children from grades 5 and 6 are on their way home.
After a day of intensive learning, their minds are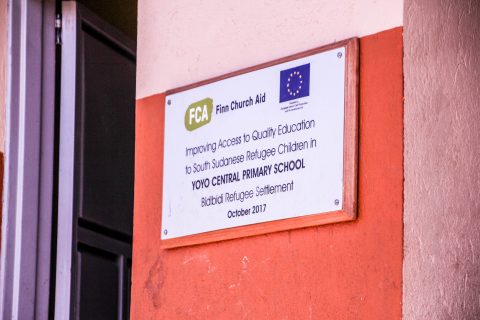 set on future goals. A group of seven friends do not need much time to consider their favourite subjects, when asked. The answer is science and math.
"I want to become an engineer, so that I could for instance design and implement a water supply system at the refugee settlements", says 16-year-old John.
Same-aged Mary would consider a career as an accountant because she likes to play with numbers, while Emmanuel, 17, longs to be a pilot or driver because he wants to explore the world.
16-year-old Scovia reminds that English is important whatever your dreams might be.
"I would like to become a nurse so that I could help sick people", she adds.
21 000 pupils benefit from improved access to quality education
Over 60 percent of the arrivals from South Sudan are children under 18 years old. When arrivals peaked following the eruption of violence in Juba in 2016, it took months for most to continue their education in Uganda. Temporary structures, primarily tents, were set up in the settlements to meet the urgent needs.
Today, children usually resume their studies within days after their arrival, and efforts have focused on upgrading the temporary structures to semi-permanent classrooms of concrete from which refugees benefit. The tents are hot during summers and vulnerable to extreme weather conditions.
FCA is set to complete 28 blocks of 84 classrooms by January 2018 with EU humanitarian funding. The cooperation improves the learning environment in 7 schools in Bidibidi, one of the world's largest refugee settlements and 6 schools in Omugo settlement, established in August. When finished, FCA's and the European Union's project will immediately benefit around 21 000 pupils.
At Para Primary School, the first two blocks of six classrooms and one block of latrines are finished, and the last part of the construction is well on its way.
"The learning centres are established with a high priority not only because of the importance of education, but as a safe space for children and youth", Denis Okullu, coordinator of the project explains.
Training of teachers key to learning
The cooperation between the European Union and FCA also extends to the teachers, who have more than 1 500 pupils to care for at Para Primary School. One essential training of Teachers in crisis contexts addresses the challenge in dealing with such a large number of students.
"We use a lot of group work and working in pairs in order to manage the situation", Andero Kasifa says.
A total of 237 teachers are to receive the training and Kasifa is one of them. The project also works on accommodation for the teachers, prepares them for work with children in a crisis context as well as involves parents in supporting a safe and productive learning environment.
Especially children who have been years out of school require attention in order to get back on track. A placement test decides their initial level, and through a process of accelerated learning, they can catch up and complete for instance three grades within one school year.
"The skills we learn help us to help them complete their primary level education", Kasifa says.