Hydroponics and flowers in sign language – vocational and entrepreneurship training gave employment and helped start new small-scale businesses in Jordan
2.10.2018
From 2017 to 2018, Finn Church Aid (FCA) offered tailor-made vocational and entrepreneurship training ro refugees, persons with disability, and Jordanians in the most vulnerable positions. A total of 424 refugees and Jordanians completed the vocational training and 49 businesses were started in the project that ended in September.
Out of the graduates from the vocational training, 84 have found employment, and 116 have received additional training as well as tools and equipment to start their own business. More than half of the graduates are women.
Jordan has an unemployment rate of over 18 percent, and the number is much higher still for women (80%) and young people (90%). A country with a population of 9.5 million, Jordan has reveiced the second highest number of refugees relative to population after Lebanon, over a million. Syrian refugees are only allowed to work in certain branches with a shortage of labour.
Before the training started, a marketing survey was conducted to find out which branches had the need for labour and which skills employers valued. Occupational groups in demand included carpenters, electricians, mobile phone repairers, construction assistants, hotel and restaurant workers, and tailors.
To support and encourage women to participate in the vocational training, FCA offered child care services near the training locations in cooperation with the Finnish aid organisation Fida.
"The work of Finn Church Aid is rights-based, meaning that the leading principles throughout the project have been equality, non-discrimination and responsibility. It has been encouraging to work with women and persons with disability in this project," says Ashraf Yacoub, Finn Church Aid regional director in the Middle East.
Finnish entrepreneurship training encouraged to start businesses
In addition to vocational training, FCA cooperated with Mercuria Business College to organise compact entrepreneurship courses including a training period, mentoring and a small start-up grant.
55 people participated in the courses. They have already started a total of 49 businesses, some of which already employ others as well. Over half of those who have started businesses are women and ten percent are persons with disability.
Jordanian friends Asma'a and Hussam took part in the entrepreneurship training and are starting a flower shop in their neighbourhood. Both are deaf.
"We are developing an application that works through a flat-screen television and allows us to communicate with our customers, because there are very few sign language interpreters in Jordan," says Asma'a.
Legislation limits refugees' entrepreneurship
Refugees and Jordanians attending the course have started joint business ventures.
"It's good to build a business with a Jordanian partner. Unfortunately, there is no law or official document to corroborate my right to own a business. I'm constantly worried of losing my business", says one of the Syrian entrepreneurs in the project.
Based on the experiences from the project, Finn Church Aid is cooperating with other international non-governmental organisations to advocate for a clear legal framework for joint business ventures in Jordan. This would allow Syrians to work as entrepreneurs with Jordanians as equal partners and to benefit the Jordanian economy.
Syrian widow Wazirah emphasises the importance of developing legal channels to register businesses. The training gave her confidence, knowlege and skills, and she can now provide for her family and give her son an education.
"This project was a step out of my comfort zone, I feel stronger now," says Wazirah.
See full press release here.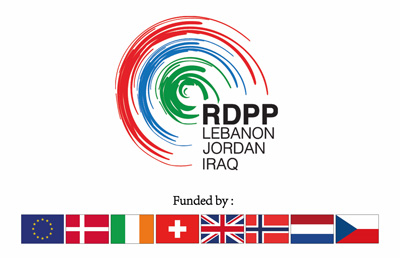 The project was funded by the European Regional Development and Protection Programme for the Middle East (RDPP), supported by the European Union, the Czech Republic, Denmark, Ireland, the Netherlands, Norway, Switzerland and the United Kingdom.