FCA Launches i-LEARN project to make education accessible to displaced children in Somalia's Southwest State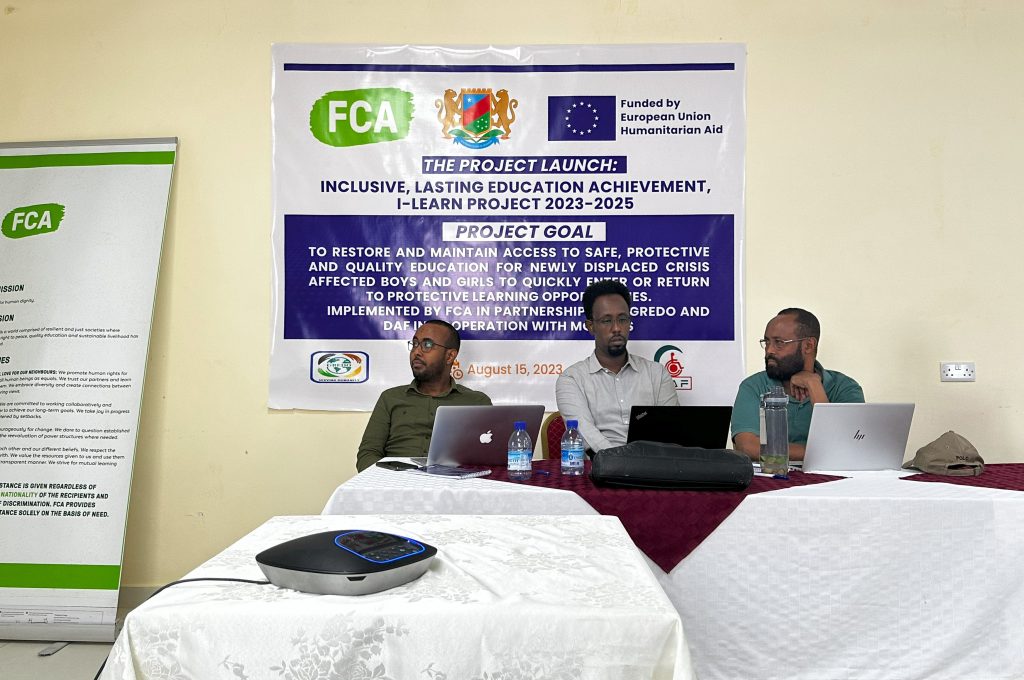 Displaced children will be able to access quality education even amidst crises, thanks to FCA-led, EU-funded project.
FCA Somalia recently launched its i-LEARN project, aiming to widen inclusive access for displaced children in Southwest State. The initiative is part of FCA's European Civil Protection and Humanitarian Aid Operations (ECHO) funded Education in Emergencies (EIE) project, in collaboration with our partners, GREDO, Daf Somalia, and the Ministry of Education in Southwest State.
The August 2023 launch event, held in Mogadishu, witnessed the participation of distinguished representatives and experts in the field of education, including FCA's Senior Education Advisor, Aburas Farah, who shed light on the project and its mission to support newly displaced children in Southwest State.
Farah emphasised the importance of education in empowering and equipping children with the tools they need to rebuild their lives amidst difficult circumstances. Through the i-LEARN project, FCA and its partners aspire to reach 8,800 learners, focusing on newly displaced crises-affected children who comprise 80% of the target population.
Ali Mohamed, Programme director for GREDO, expressed his enthusiasm for the partnership and highlighted the organisation's commitment to developing synergy with its partners. He emphasised that i-LEARN strives to make a lasting impact on displaced children's lives by enabling them to access education opportunities that are inclusive, sustainable, and tailored to their specific needs.
During the event, Amina Ahmed Mohamed, EU-ECHO representative, spoke about how this milestone initiative by FCA will prove instrumental in supporting young children who have been uprooted from their homes due to conflicts, natural disasters, or other humanitarian crises. Amina applauded FCA's commitment to making education more inclusive and accessible for these children as it challenges the barriers, they face in accessing quality education.
The launch event also had the privilege of hosting the Minister of Education for the Southwest State, Mustaf Iidow. Minister Iidow expressed his gratitude towards FCA, the EU, and all the partners involved in the i-LEARN project. He acknowledged the project's potential to bring a transformative change in the lives of displaced children and their communities, especially those affected by insecurity and drought. The Minister reassured his full support and commitment to ensuring the project's success and called for continued collaboration to address the education challenges these vulnerable children face.
David Nangumba, Head of Programmes and Business Development at FCA, also addressed the audience, highlighting the organisation's dedication to advancing education in emergency settings. Nangumba emphasized that i-LEARN goes beyond providing immediate education support by focusing on long-term outcomes and lasting impact. He expressed FCA's ambition to break the cycle of interruption in education that displaced children often experience, enabling them to attain knowledge, skills, and opportunities necessary for a brighter future.

I-LEARN seeks to reach out to displaced children in Southwest State, where access to education remains a significant challenge. By deploying innovative and inclusive teaching methods, the project aims to bridge educational gaps, enhance learning outcomes, and ensure these children's social and emotional well-being. Through partnerships with local education authorities, FCA will establish safe learning spaces, provide learning materials, and train dedicated teachers to facilitate this transformative educational experience.

Text and photos: Fatima Abshir