20.3.2023
Educating the next generation of children in South-West Somalia
The right to quality education is at the core of FCA's work. In Somalia, FCA helps children access free education in the Bay region through our EU funded Accelerated Basic Education programme. The programme helps kids with school equipment, catch-up classes and extracurricular activities.
Many of the schoolchildren we help have missed out on primary education due to fleeing conflict, drought or poverty. 2286 children have been reached since July 2021 in the Baidoa, Hudur, Elbarde and Wajid districts of Somalia. Starting with FCA cash transfers, families can buy children school uniforms, books and stationery to attend class.
Since the start of the project, funded by European Civil Protection and Humanitarian Aid Operations (ECHO), there has been a positive shift in girls' education, with more female students enrolling in schools. The programme also supports teachers, who received training and mentorship.
FCA also helps to provide sports and child-friendly spaces, which improve kids' overall psychosocial wellbeing to combat distress caused by conflict and other crises.
Two students enrolled on the ABE programme recently shared their experiences.
"I had to stay home and help with the chores"
Lulay Osman Ibrahim, 14, attends Mustaqbal Integrated Primary School and lives with her mother and five siblings in Baidoa camp for internally displaced people. Her mother, Safia, made the decision to leave Dinsoor two years ago due to violent conflict in the region and ongoing drought.
"I was living with my children in Dinsoor and had a small farm where I grew vegetables but due to the prolonged drought and long conflict in the town, it was no longer possible" says Safia.
"Life became difficult, especially for single mothers like myself, so I decided to come to Baidoa town and settled in the IDP camp to seek support " she adds.
Lulay wanted to go to school, but there were barriers to her attending.
"When I saw the hard life in the IDP camps and the struggle my mother was undergoing, I became more eager to go school and study so I could later help my family. That was my dream, but my mother could not afford to buy me uniform and books, so I had to stay home and help her with the house chores," says Lulay.
"I used to see my friends going to school in the morning, I felt sad, but I had no choice since my mother could not afford to take me to school," she adds.
Thanks to community awareness efforts by staff from FCA's Somalia country office, Lulay learned about the APE programme. With her mother's support, she registered with the school and her family soon received cash support.
After one year, Lulay aced her exams and joined the mainstream classes. She's now in third grade and hopes to one day become a teacher.
From livestock to learning
Abshir Adan Borow, 17, came from a life of looking after livestock in a remote village. Due to increasing drought, he was sent to live with an aunt in Baidoa.
"I never thought in my wildest dreams that I will find myself in a classroom and learning. I didn't even know the ABCs when I started going to school, and my numeracy and literacy skills have improved tremendously."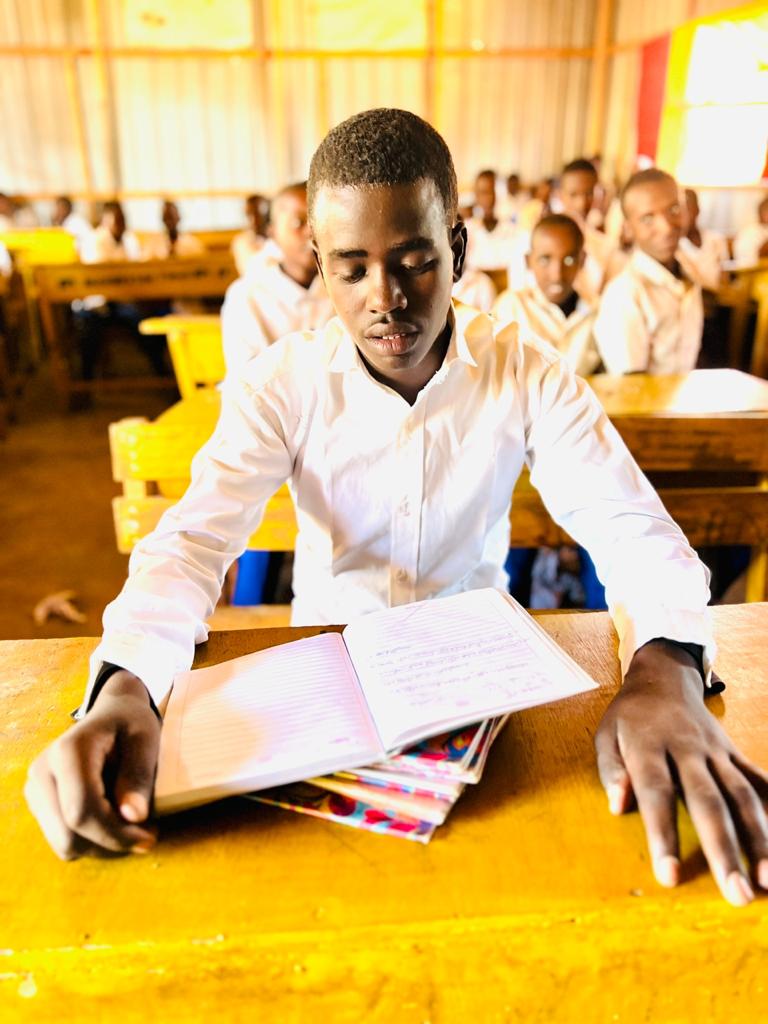 Abshir also attends Mustaqbal Integrated School under the ABE programme and after two years can now read and write.
The programme also enabled his brother Ismail to attend school, later both transferring to formal primary school classes after passing the ABE transition examination.
"It's incredible how life can change in just a short time. We might have lost our livestock, but the FCA education programme has given us a ray of hope to look forward to a brighter future," Abshir gushes.
"One day I want to work as agricultural and livestock expert to assist my community in climate change initiatives and horticulture."
Text and photos: Fatima Abshir