70 years of action for human dignity
30.1.2017
Finn Church Aid (FCA) grew from a recipient of aid into Finland's largest organization within development cooperation and second largest provider of humanitarian aid. Now we have a reason to celebrate!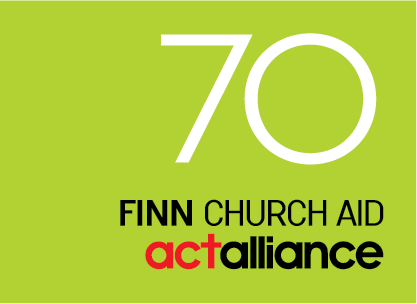 Our 70th anniversary is commemorated in various ways during the year. We begin with a modification of our website's logo. The actual birthday is celebrated in September.
This is where it started. FCA was founded in 1947, although its name only goes back to 1965. That's when the Lutheran Church in Finland took part in founding the Lutheran World Federation. Finland was in tatters after years of war, and FCA was the recipient of aid from countries supporting the reconstruction. The picture shows the signing of the Lutheran World Federation's founding documents in Lund, Sweden.
Aiding Biafra and Vietnam. FCA arranged its first aid Come and help campaign in the mid-1960's in support of Biafra (today's Nigeria) and Vietnam, as well as the victims of the earthquake in Peru and the famine in Ethiopia. The picture is from the delivery of food aid to Biafra.
Celebrities get involved. In 1970, Pippi Longstocking (Inger Nilsson) participated twice in children's parties in Helsinki, collecting money for undernourished children in Nigeria. The campaign resulted in a total of 45 000 mark.
Kosovo in our minds. FCA helped Jugoslavian war victims in Kosovo as a part of the reconstruction of Mitrovica. Finnish engineers also participated in the project.
Focus on fragile states. In 2016, FCA's budget was around 40 million euros, and its work focuses on the most vulnerable people in about 15 countries. We work for everyone's right to peace, quality education and sustainable livelihoods.