The Toll of War: How are Syrians standing up on their feet again?
19.6.2019
Before, as many Jordanians, we used to take up a two-hour drive to Syria on weekends to enjoy the green nature, stay by the coast, purchase good quality goods, and come back home. After nine years of war, it took us a five-hour drive to reach Damascus, but nothing was the same anymore. The border barely exists, the green road is full of damaged buildings on both sides, and there are countless checkpoints.
I visited Syria as part of an educational project that FCA Middle East office is implementing in rural Damascus. The war has been put to rest in most of the governorates of Syria, except some North-West areas like Aleppo and Idleb.
Our destination, the Old Town of Damascus was, was thankfully kept safe during the conflict. The old streets, the souqs, the mosques and the churches are still standing, witnessing sadly the damage of other old towns.  There is not much war remains inside Damascus, and life seems normal. The city is buzzing with people, despite that you can definitely sense the pain and the suffering in people's eyes, voices, and stories.
During my visit, I facilitated a Training of Trainers (ToT) for 40 teachers and administrators, who despite all the obstacles and the frustrations came all the way to participate in the training actively, energetic and full of life. The training mainly focused on teacher competencies, planning for teaching, modern teaching strategies, evaluation strategies, classroom management, and facilitation techniques.
The ideas, the discussions, and the laughs we shared in the 6 days training are unforgettable. I was keen to join the participants at their tables during the breaks, and listen carefully to their stories; the woman who lost her father, the man whose house was destroyed, and the families who were forced to leave their hometowns and start over a new life from scratch.
"He was my only brother, but he was killed by a land-mine", Diana describes.
During the training, the one and only question that kept racing through my mind: "Is war worth it?"
Over 2 million children – over one third of Syria's children – are out-of-school  and 1.3 million children are at risk of dropping out.
Nine years now of the prolonged conflict in Syria, and the needs are still huge, severe and demanding. As the number of IDPs estimated to be 6.2 million, some areas became overcrowded, resulting in the drainage of resources to the point that over 8 in 10 people in the country now live below the poverty line. As a sample of those areas, we visited Jaramana and Sahnaya in rural Damascus.
During our trip to Jaramana, my colleagues and I conducted field visits to the institutes that provide informal education for dropout students. They also provide remedial classes for 9th and 12th grade students to help them pass the national exams. Gladly, I had the chance to conduct coaching visits to some classes, in the purpose of observing and providing feedback. It is said: "Never underestimate the power of dreams!" That is exactly what is left for those children, dreams of a better future, where no more war or killing around.
In one class that I was coaching, the teacher was fully engaged in teaching the students a poem about freedom and patriotism. He asked all the questions, they replied with all the perfect answers, but I wonder if one of those students had a peek at the window, what he would think!
During that class, the one and only question that kept racing through my mind: "Is war worth it?"
Erbin: A tale of a devastated city
Later, the car moved slowly away from Damascus. Gradually, the noises started fading away until we found ourselves entering a world of silence; a town with no inhabitants, streets with no cars, even no birds, dogs or cats. It was more like a ghost town! And so we were informed that we arrived to what was left from Erbin, in East Ghouta.
In Erbin, you may drive for more than 10 minutes searching for a human being, or any sign of life, or even a non-damaged house, but you find nothing but destruction. In 2018, Erbin was exposed to restless heavy bombardment and raids for months, even hospitals and schools were repeatedly hit. One of the schools was used as a shelter. School activities were suspended for long period due to safety and protection reasons! According to OCHA report 2019, 10076 people are in need in Erbin.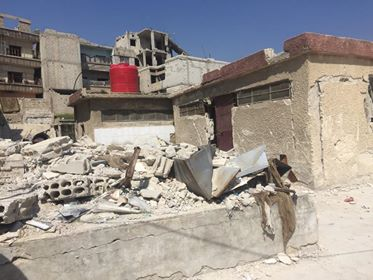 "The teachers haven't been paid for a year now, but we show up every morning for the sake of those guiltless children", a school principal explains.
FCA supports the rehabilitation of two schools in Erbin. Classrooms and washrooms will be renovated and walls will be painted.
On the same trip, we visited a vital center that St. Ephrem Patriarchal Development committee (EPDC) – FCA's local partner – runs. It provides psychosocial support and informal education. The desire to live in better circumstances was a powerful motive driving everyone to work like busy bees, the hope of a better future could be easily sensed in every corner, it was contagious!
Also in Erbin, the same question kept racing through my mind: "Is war worth it?"
The trip came to an end, I went back home safe. The memories, stories and feelings I carried with me are irreplaceable. The visit was overwhelming, and it was only 12 days long. What about the Syrians, who live amidst those memories every single moment of every single day?
In Syria, one thought kept racing through my mind: "Is war REALLY worth it?"
Heba Suleiman
The writer works as a regional education adviser for Finn Church Aid