3.10.2022
Finn Church Aid Executive Director Jouni Hemberg to retire, recruitment process for a new director launched soon
Tomi Järvinen, Deputy Executive Director, will take over as temporary Executive Director.
Jouni Hemberg, 66, Finn Church Aid's Executive Director since 2015, will retire in late 2022.
Hemberg joined Finn Church Aid in 2008 to serve as the Head of Humanitarian Assistance. Since then, he has been the FCA's Director of International Cooperation (2009–2013) and Executive Representative in Washington (2013–2015).
"My years at FCA have been inspiring and rewarding. What I remember particularly well is the countless field trips and conversations with beneficiaries," Hemberg says.
Hemberg says that he is happy to retire.
"FCA is in good shape and ready to face future challenges. We have had our fair share of challenges during my time as Executive Director: in 2015–2016, the government cut development aid spending dramatically, in 2020 the coronavirus pandemic broke out, and now there is a war in Ukraine. And this is just scratching the surface. I've never had a boring day."
For decades, Hemberg has had a front row seat when it comes to international aid work. Before joining Finn Church Aid, he held international positions in UN organisations, the Red Cross and Save the Children International. In the 90s, he worked in an aid organisation in India which was supported by Prince Charles, now King Charles III.
Hemberg will be on vacation from October 20, after which Tomi Järvinen will take over as temporary Executive Director. Järvinen has worked for FCA since 2013 and was appointed Deputy Executive Director in April 2021.
The recruitment process for Hemberg's successor will be launched soon, with the objective of having a new Executive Director in office in early 2023.
Finland's largest international aid organisation
Finn Church Aid, which recently celebrated its 75 anniversary, is a major aid organisation with country offices in 12 countries in Africa, Asia and the Middle East, and with the latest addition to country offices just opened in Ukraine. The organisation employs 4,000 people, most of them in different locations around the world and about 120 in Finland.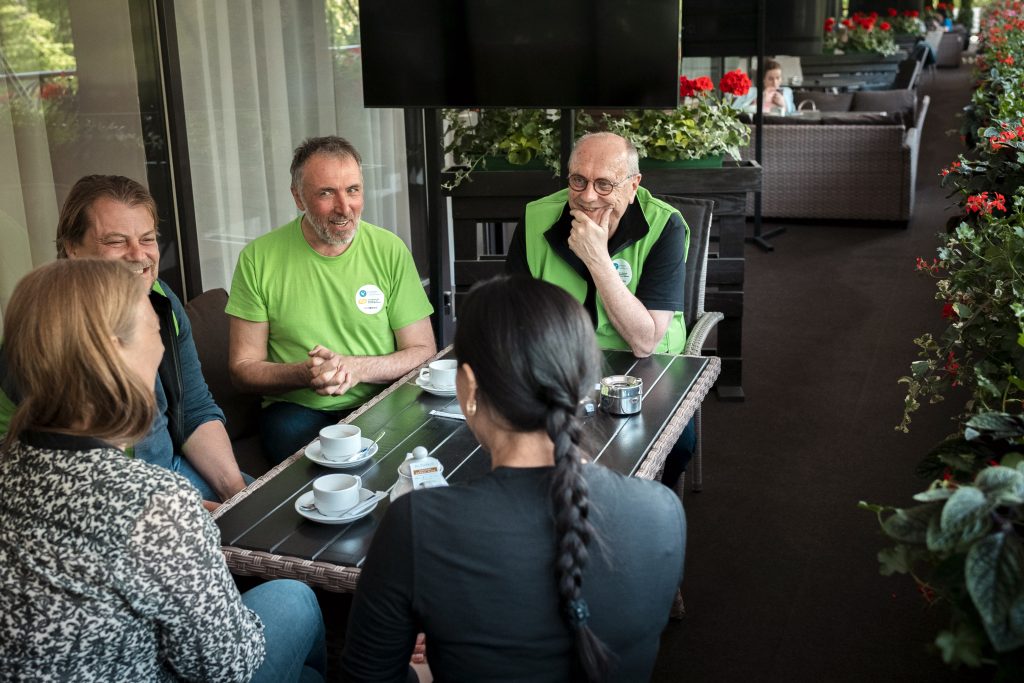 When asked about FCA's recipe for success, Hemberg lists increased funding, innovations, successful recruitments and broad-minded elected representatives who have supported the changes. He also thinks the decision to focus on education, livelihood and peace was the right one, and measures have been successful.
"Since 2008 FCA has transformed from a 20-million-euro to an 80-million-euro organisation with the number of employees growing from a hundred to nearly 4,000. This is quite remarkable," Hemberg says.
FCA ready to face future challenges
Today, there are many complex global challenges to solve. War is raging in Europe, and East Africa is suffering from a historic drought that affects the region's food security and the lives of millions of people.
"Over the past 15 years, our fundraising efforts in all sectors have been quite successful. Now, dark clouds loom on the horizon in terms of both public and private financing," Hemberg notes.
Despite challenges, the retiring Executive Director is optimistic about the future.
"Our strategy and FCA 2030 work reflect the steps we have taken to prepare for the future. Our strengths include flexibility, ability to react and respond quickly when necessary and, last but by no means least, skilled personnel."
Read more: Jouni Hemberg, FCA's Executive Director, addresses 12 claims regarding FCA and its work
Photos for media here. Photo credits Tatu Blomqvist / Finn Church Aid OR Antti Yrjönen / Finn Church Aid.
More information and interview requests:
Jouni Hemberg, Executive Director
jouni.hemberg[a]kirkonulkomaanapu.fi
+358 50 325 9579
Ulriikka Myöhänen, Communications Specialist
ulriikka.myohanen [a] kirkonulkomaanapu.fi,
+358 50 576 7948