13.7.2022
FCA hosts the US Assistant Secretary of State for Population, Refugees, and Migration in Uganda's refugee settlements  
Finn Church Aid (FCA) Uganda was honoured to host a delegation from the United States led by the U.S Assistant Secretary of State for Population, Refugees, and Migration Amb. Julieta Valls Noyes in Kyaka II and Rwamwanja refugee settlements, in Western Uganda.
THE DELEGATION was joined by Uganda government officials led by the Minister of State for Relief, Disaster Preparedness & refugees Hon. Esther Anyakun and officials from UNHCR.
The delegation was on a mission to visit the education projects Finn Church Aid is implementing in the refugee settlements. They visited Bukere Secondary and Bukere Primary Schools and engaged with the learners and teachers.
Amb. Julieta lauded Finn Church Aid for the work the organisation is doing to promote access to quality education for refugee and host community learners in the settlement.
Hon. Esther Anyakun was impressed with the work FCA is doing in promoting access to quality education and thanked the U.S Bureau of Population, Refugees, and Migration and FCA for transforming lives of refugees and the host community.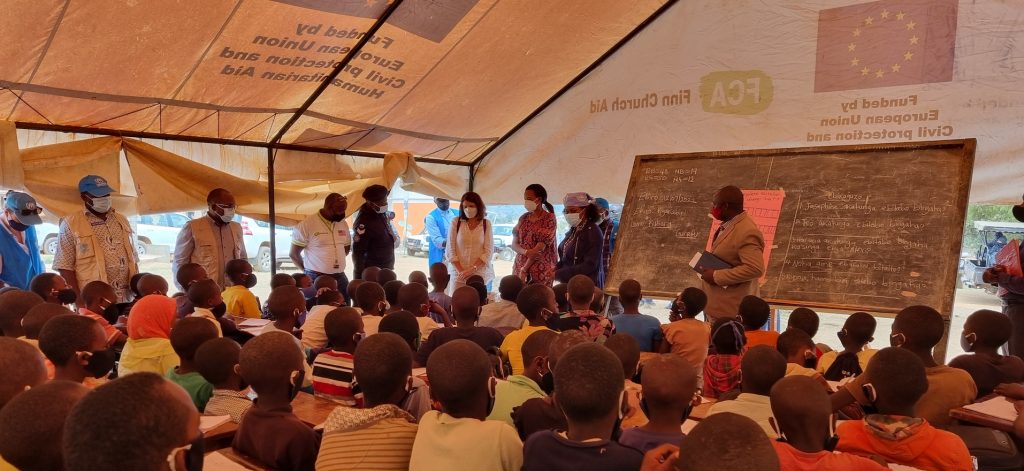 FCA with funding from PRM implements the LEARN Project aimed at providing access to equitable and inclusive quality education for refugee and host community children and adolescents in Bidibidi refugee settlement in Yumbe district, Palorinya refugee settlement in Obongi district, Kyaka II refugee settlement in Kyegegwa district and Rwamwanja refugee settlement in Kamwenge district.
Under this project, FCA has constructed 3 new Secondary Schools, over 70 classrooms; 5 libraries; 9 Science Laboratories, 5 school administration blocks; 80 teachers' accommodation units and 194 latrine stances for teachers and students in the four refugee settlements.