19.10.2022
Ugandan delegation benchmarks Finland's education system ahead of reform
The Ugandan Education Policy Review Commission consisting of researchers, educationists, economists, policy analysts and former ministers, arrived in Finland as guests of Finn Church Aid. During the week-long visit, the delegation visited various educational institutions and met Finland's top experts in education.
THE FINNISH EDUCATION system received plenty of praise from the Ugandan experts who visited Finland as guests of Finn Church Aid in late September and early October 2022.
"The educational environment encourages and supports learning."
"The teachers seem to love their job and be proud of their profession."
"The teachers are highly educated and have good pedagogical skills, including in preschool education."
"Vocational schools teach skills that help find job opportunities."
During their week-long stay, the delegation visited a Finnish daycare and kindergarten centre as well as comprehensive and vocational schools and met with local authorities.
The aforementioned quotes are from a discussion meeting held during the visit, where the members of the commission were reflecting on what they'd learned.
The reason for their visit is a fundamental one. Uganda is planning a wide-ranging educational reform, which would increase the quality and effectiveness of its education system.
In regard to the reform, the Minister of Education and Sports and First Lady of Uganda, Janet K Museveni, appointed a Commission comprised of Ugandan education experts. The primary function of the Education Policy Review Commission is to draft a new policy framework for education and sport in Uganda that would replace the current Government White Paper on Education of 1992.
Thus, it's possible that there will be a nugget of Finnish expertise in the Ugandan school system in the future. The commission also plans to benchmark education systems from other countries to broaden their knowledge and understanding before submitting their recommendations. "Many things in Finland inspire me. One is the structure of education and how it has been built from early childhood all the way to a doctoral degree. All Finns I interacted with seemed to understand this structure," says Monica Abenakyo Monge, a member of the commission.
Quality education at the core of FCA's work in Uganda
The delegation says that the Ugandan school system is battling against a diverse range of challenges, including inadequate funding, weak school-level management structures, inadequate availability of learning materials, and large class sizes. A major issue is also the availability of teachers in disadvantaged areas and a lack of accommodation for teachers in rural, hard-to-reach areas.
The delegation emphasised that there is much to learn from the research-based Finnish education system. Currently, the most important goal of learning in Uganda seems to be more academic. Poorly performing students don't receive the support they need, leading to them being left outside the system.
FCA has operated in Uganda since 2014, focusing on improving comprehensive and secondary education, particularly in the immense refugee communities. FCA's work particularly highlights the importance of the quality of education arising from trained teachers, carefully prepared curricula, and safe learning environments.
"The Commission's visit also supports the efforts of FCA, as it gives us an opportunity to shape Uganda's new education policy," concludes Wycliffe Nsheka, the Country Director for FCA Uganda.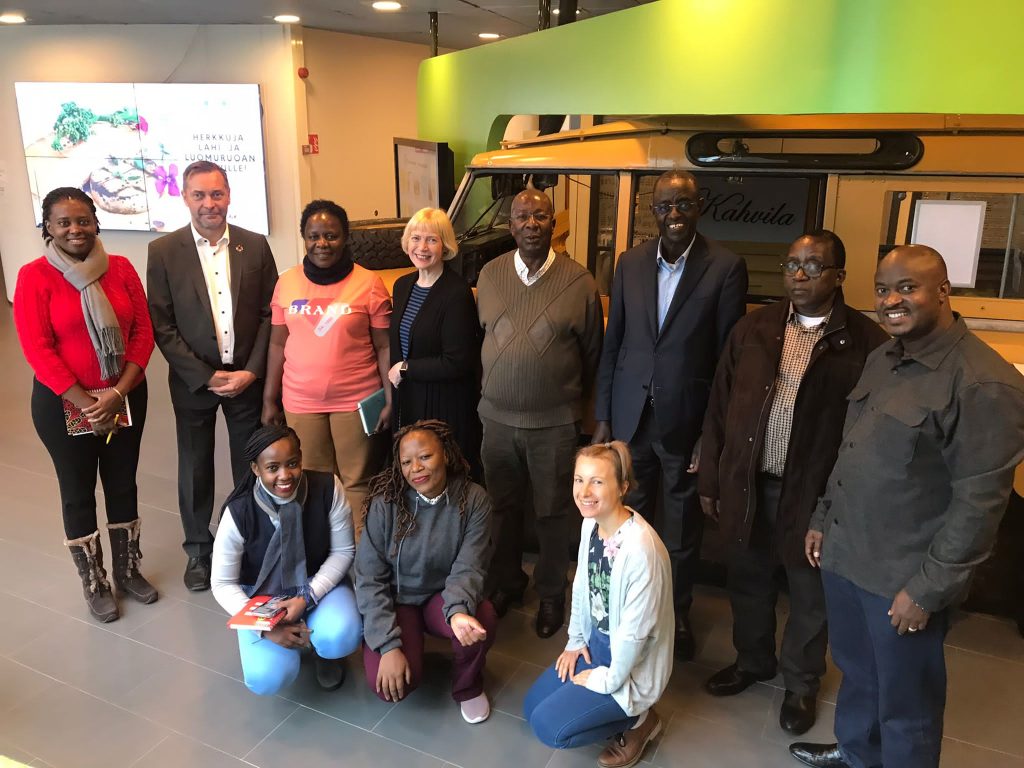 Vocational education looks into the future
Recently FCA has particularly concentrated on supporting vocational education in Uganda, as professional skills and entrepreneurial competence improve people's opportunities to make a living for themselves and their families. In Uganda, companies are in massive need of trained employees, and hence there is educational collaboration with the private sector.
Visiting a Finnish vocational school was a particularly memorable experience for the delegation.
"What especially stuck with me was the thought that vocational schools teach for the future. We tend to stay with the past and use traditional methods that are no longer suitable in today's world. Training people to meet the needs of the labour market is also very important," Monica notes.
Could Finns learn a lesson from Uganda?
"The environment is different. Finland has gone through all kinds of things in its development to what it is now. I've imagined what it would be like to teach here. Nothing could stop me, but would you survive in a challenging learning environment? If a Finnish teacher visited my school or village, they would understand and appreciate my efforts," Monica says.

The visiting delegation also included the Commission chair and former Minister of Education, Hon Nuwe Amanya Mushega as well as commission members and experts Hon John Mwoono Nasasira, Jacklyn Arinaitwe Makaaru, Prof John David Kabasa, Lillian Nabiryo, Monica Abenakyo Monge and Proscovia Kasemire.  

Text: Ulriikka Myöhänen
Translation: Anne Salomäki