9.7.2021
South Sudan faces multiple shocks but optimism remains
South Sudan reaches its tenth Independence Day on 9th July in a situation in which the Covid-19 pandemic is hampering the country's gradual recovery from conflict. An economic crisis and exceptional floods add to the challenges, but there is also significant optimism among youth, writes Finn Church Aid's Humanitarian Coordinator Moses Habib.
WHEN WILL THE PANDEMIC END? Who brought Covid-19 to South Sudan? These are questions we encountered from beneficiaries while rolling out community awareness campaigns about the pandemic. As a layperson with limited knowledge about Covid-19, it was intriguing to explain to people the myths about a virus we all did not understand, and that left me with memories I will have forever.
The general situation in South Sudan is dire. What worries me most is that before the pandemic struck, more than two-thirds of the country's population – about 8.3 million people – were in need of some form of humanitarian assistance in order to survive. In 2020, the multiple shocks caused by intensified conflict and sub-national violence, a second consecutive year of major flooding, and the impacts of Covid-19 hit communities severely.
The challenges increased the vulnerability of populations that were already at risk. It worries me even more to hear some say that there is not enough political will to end their suffering.
We believe that advancing inclusion over exclusion paves the way for addressing the root causes of conflicts and ending the cycles of violence. In practice, we equip youth, women, traditional and religious actors with skills in conflict resolution, mediation and peacebuilding. Our efforts have materialized at local and community levels but have not yet translated to adequate representation in the national peace process.
What gives me hope is that there is optimism among young people, despite the country's protracted challenges. South Sudan has abundant natural resources, which keeps many South Sudanese optimistic about the future. People believe that with a conducive environment free of conflict, this country has the potential to take off and become a breadbasket of the East African region and beyond.

Text: Moses Habib, Humanitarian Coordinator
Main photo: Sumy Sadurni
Photo story

Peace Work for over 10 years

Finn Church Aid has worked in South Sudan throughout the country's independence. FCA builds peace in local communities, empowers youth and women in peacebuilding and through access to vocational education, and supports children's access to school. Have a look at photos of our work throughout the years!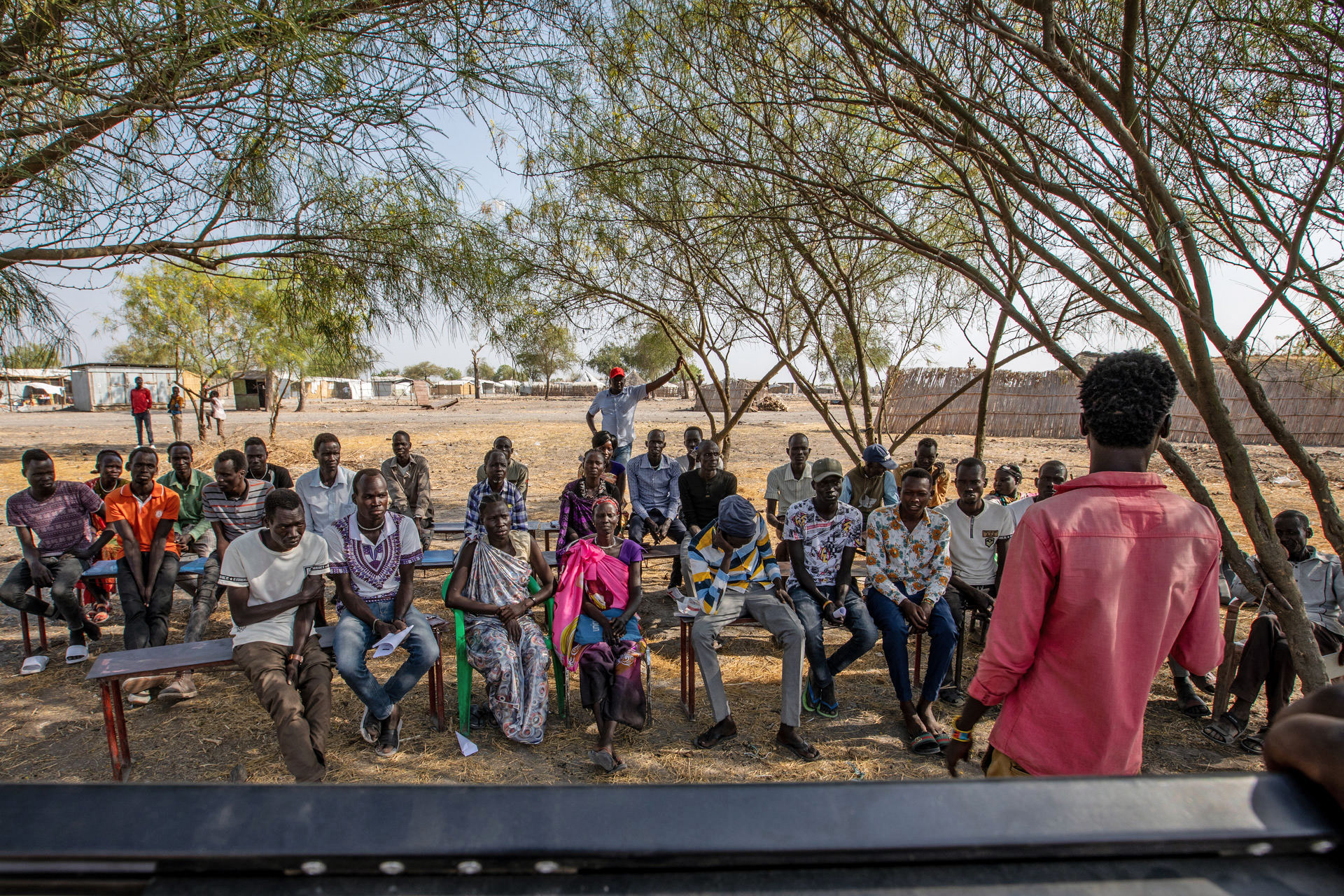 Members of a youth peace committee in Pibor in 2019. Pibor has a reputation for cattle rustling and fighting between youth groups, but peace committees have reduced conflict and supported reconciliation.
Photo: Sumy Sadurni
A gathering of the women's peace committee in Pibor in 2019. Women are an integral part of peace building efforts but often not represented in peace processes. Before this group was founded, villagers reported incidents of violence five times a week. Thanks to peace committees like this one, incidents in 2019 occurred at an average of once a week.
Photo: Sumy Sadurni
One of Finn Church Aid's key objectives is to maximise the opportunities of children and young people to attend school and receive a quality education. This project, funded by the EU Humanitarian Aid (ECHO), supported 7,000 pupils' access to school in Fangak County.
Photo: Maria de la Guardia
Girls playing after class in New Fangak. Schools offer a safe place for girls amidst disasters, societal pressures and harsh economic realities that lie at the bottom of issues like child marriage and child labour.
Photo: Maria de la Guardia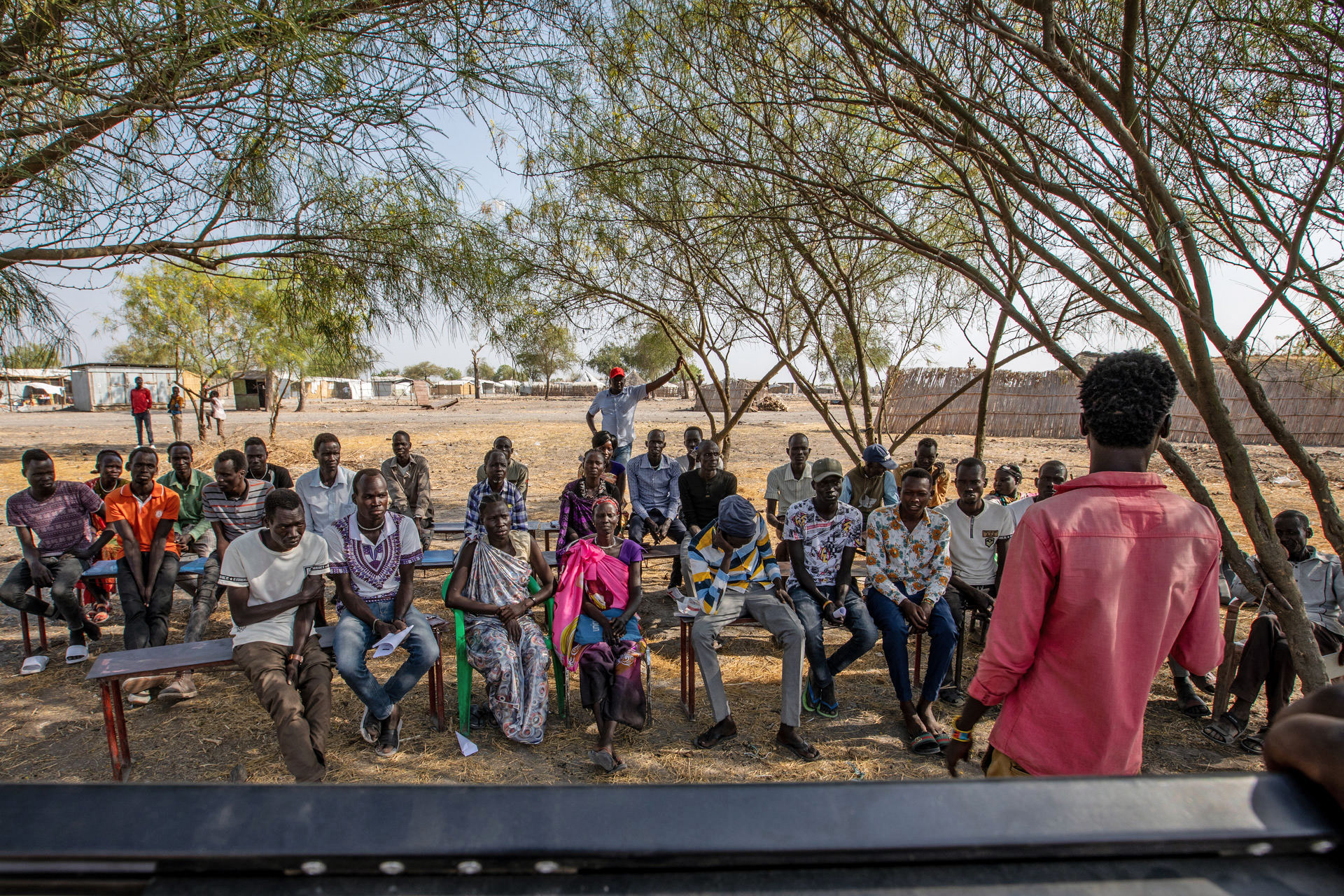 Teacher training funded by EU Humanitarian Aid (ECHO) in New Fangak. The training of teachers builds the foundation for quality education.
Photo: Maria de la Guardia
Youth at the local youth centre in Pibor. Football is one of the most popular pastimes across the country.
Photo: Sumy Sadurni
Floods and drought create challenges for food production in South Sudan's northern parts. Nyaluak Kong Kuon lost her harvest to the floods and faces difficulties in planting during the heat of the dry season.
Photo: Maria de la Guardia
Nyakuola Pale Thieng grows onions on her lands in Old Fangak. In 2020, a total of 6,347 beneficiaries benefitted from Finn Church Aid's distribution of agricultural inputs and fishing gear.
Photo: Patrick Meinhardt
Luor Luny Thoar with his catch near Toch village in South Sudan's Sudd swamp. Besides receiving gear, fishermen are also trained in fish preservation methods, which ultimately increase the profit of their livelihood when they sell their catch to the market.
Photo: Patrick Meinhardt
Youth at the Juba Technical School. Finn Church Aid supports Technical Vocational Education Training (TVET) for youth in for instance construction, catering, mechanics, hairdressing and tailoring.
Photo: Sumy Sadurni
23-year old Abir Mustafa trains in construction. More than half of the 414 youths that benefited from TVET training in 2020 were women.
Photo: Patrick Meinhardt
21-year-old Reida trained in catering in Juba and managed to secure an internship at a hotel. In 2020, 414 young people completed a post-vocational internship in the private sector, and 298 of them continued at work after their internship.
Photo: Patrick Meinhardt
The market in Yei town in South Sudan's southern parts. Yei County is traditionally considered South Sudan's breadbasket region due to its fertile soil and agricultural traditions. The conflict that erupted in 2016 forced many to flee across the border to neighbouring Uganda and the Democratic Republic of Congo.
Photo: Sumy Sadurni
The peace agreement in September 2018 has encouraged some people to return home from the refugee settlements. Finn Church Aid supports returnees and the host community in Yei with for instance cash transfers that help people feed their families and rebuild their houses and livelihoods.
Photo: Sumy Sadurni
Siblings Stella, 28, and Pascal, 25, returned to Yei from Uganda's refugee settlements in 2019 and have worked hard to cultivate their plot of land. Pascal managed to finalise his agricultural studies thanks to the cash transfers.
Photo: Sumy Sadurni