Quality education builds a better life after school closure – "I thought I would not return"
26.1.2021
Moving from congested tent structures into concrete classrooms not only improved the quality of teaching but also of life for learners and teachers at Ebenezer Secondary School. The pandemic led to a long school closure in Uganda, and now that candidate classes are back, one of the main challenges is bringing girls back to school.
Old wooden school structures covered with the recognisable UNHCR white tarpaulin are a dead giveaway: refugees go to this school.
But behind the white canvases are four colourful, bright orange, concrete buildings with green windows and hallways. This is Ebenezer Secondary School, a school for both South Sudanese refugees and Ugandan youth in the Obongi District of Palorinya refugee settlement in northern Uganda.
"Teaching in the old structures was tough," explains Winnie Akol, a teacher from Eastern Uganda currently residing at the school. She points at the old tent-like structures.
"The classrooms were congested, there was not enough air coming in. We teachers could not reach the back of the room to check on the other children because the rooms were so small. When it rained, we had to stop the lessons because we could not hear ourselves over the rain pounding on the iron sheets. No one could focus on the lecture and it was always so dusty inside."
Winnie believes that after the new structures were constructed, children's learning has improved because they have no distractions. Two of the main classrooms are laboratories for science and have electricity, sinks and Bunsen burners with which the children can practice chemistry.
Return to school after the lockdown
Inclusive access to quality education
With funding by The U.S. Bureau of Population, Refugees and Migration (BPRM), the project supports inclusive access to quality education, improved learning outcomes and enhanced protection and well-being for refugee and Ugandan children and youth.
By August 2022, the project aims to reach 16,740 secondary learners, 121,408 primary learners, 412 secondary teachers and 1,187 primary teachers.
The project is implemented in four refugee settlements in Uganda; Palorinya and Bidibidi in West Nile and Kyaka II and Rwamwanja in South West.
The coronavirus pandemic was a big blow to many children, especially girls. When the Ugandan government decided to close schools in March 2020 as an attempt to curb the spread of Covid-19, children found themselves back at home. Many girls either became pregnant or their families forced them to marry because of financial hardship and fears about the future before the announcement of the reopening of schools.

"We have lost many learners to marriages and pregnancies," says teacher Winnie. "But we are still following up on them and we want those girls to also come back to school and resume their studies. It should not stop them."

Winnie also thinks that the closure of the schools made parents appreciate education more because when they re-opened, the general response of sending children back to school was very positive. The parents were even pushing them to school, she says.

"Of course Covid-19 has had a massive impact on the children because their learning schedule was pushed back and they are behind on their work," she says. "Six months is a long time to lose when it comes to education, and while they had home learning packages, learners still need guidance from teachers. They cannot do it on their own."

Winnie lives in the newly built teachers' quarters behind the school, recently constructed with the support of The U.S. Bureau of Population, Refugees and Migration (BPRM). The facility has improved her quality of life. Earlier teachers would have to stay in the nearest trading centre and pay rent to stay in basic accommodation. Now, while they do not have electricity in the rooms themselves, they can use the internet at the school facilities and even go online on their days off.
Girls with high aspirations
"I spend a lot of time in the lab," says Roseline Muni, an 18-year-old South Sudanese refugee who came to Uganda in 2017 because of the war. "I want to be a doctor when I grow up. I want to serve all of God's children."
"When the schools closed, I was so upset. I thought I would never be able to come back again," she says.
Roseline came to Uganda with her parents and six siblings, and she likes her school. She takes learning very seriously: during break time, rather than going and having porridge with the rest of her classmates, she sits in an empty classroom with two of her best friends who, by chance, come from the same village. Together they go over the latest chemistry assignments.
"The teachers here are different to the ones I had in South Sudan," she says. "Back home they do not employ qualified teachers but here, the teachers are always helping us. We do debates and discussions, which has given us the confidence to talk in public."
Another future scientist, Viola Ponis Moses, 19, also from Kajo Keji in South Sudan, wants to become an electrical engineer.
"In South Sudan, we have poor electricity systems," Viola says. "I want to give power to South Sudan and connect our country."
These women are the future of South Sudan and it is important to secure their education.
"It is difficult for girls to finish secondary school," says Viola. "Especially because they're exposed to rapes and crimes. Early marriage is also a big challenge in our culture, and it still happens in the refugee settlements."
The BPRM funded project focuses particularly on supporting the education of girls, as well as children and youth with disabilities, through sensitizing the community on the importance of education for every child. Parents and community leaders help in raising awareness, while learners address sexual and hygiene subjects in the school context.
NGOs changing attitudes about education
Teacher Winnie says that the quality of teaching has improved since Finn Church Aid (FCA) began working with them.
"We have now been trained to teach positive discipline and guide our learners to be responsible for themselves. Before FCA, discipline was mostly taught with corporal punishments, but it is not allowed anymore and the laerners learn to trust us."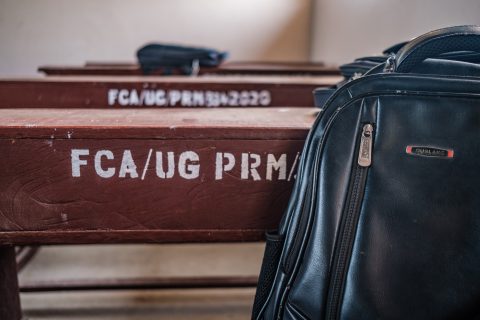 The training has also been key in building relationships with parents who, as Winnie explains, used to think that school was over when primary school year 7 was completed.
"Both parents and teachers who have a responsibility to encourage children to go to secondary school," she says. "We can do it at school, but the parents must do it at home."
"It is harder for girls than it is for boys because as soon as their bodies start to develop, it is believed that they should be starting a family. NGOs such as FCA have had a massive role in keeping children at school up to the secondary level; without them, the numbers would be far lower."
"Each learner has their own aims for the future, and my wish for them is that they will achieve their own goals."
As Rosaline packs her materials into her schoolbag when the break ends, she exits her classroom and walks to the next building, through the hallways, to enter the science lab, just in time for her next lesson on mitosis.
The white tarpaulins could soon be a thing of the past in Ebenezer Secondary School.
Text and photos: Sumy Sadurni