21.9.2022
Peer support vital for children and young people in a crisis
Summer clubs organised by Finn Church Aid gave war-affected Ukrainian children and young people a chance to go to school, play games and sports, and do arts and crafts.
IN UKRAINE, two very different realities coexist. On the pavement, pedestrians are nearly knocked over by electric scooters swooshing by, as in any European city. Children in the park are engaged in boisterous play. Adults seem to be in a hurry, perhaps on their way to work.
At first glance, nothing in central Chernihiv suggests that just months earlier, 60 per cent of the city's 285,000 inhabitants fled to other parts of Ukraine and neighbouring countries. But things change in an instant as you go around a corner and see a neighbourhood hit by missiles.
The town of Chernihiv and the surrounding municipality in northern Ukraine have been under heavy air strikes since the offensive was launched on 24 February. In April, after the Russian troops withdrew, residents started to return. Today, almost 200,000 people live in Chernihiv.
The war closed schools, too. After the situation returned to normal, teachers did their best to make up for lost time to allow children and young people to move on to the next grade. The summer clubs organised by Finn Church Aid and its partner organisation DOCCU finally gave school children a much-awaited opportunity to have fun together.
Below, local people share their thoughts on how the summer clubs changed their daily lives.
The war has caused a great deal of stress in children and young people
Zhanna Kudina, psychologist and teacher

"I escaped from Chernihiv three weeks after the war broke out. I travelled via Lviv to the Czech Republic, where I stayed for about a month. When I heard that the situation in Chernihiv was better, I felt I had to go back. I feel very strongly that this is my home and the schoolchildren need me.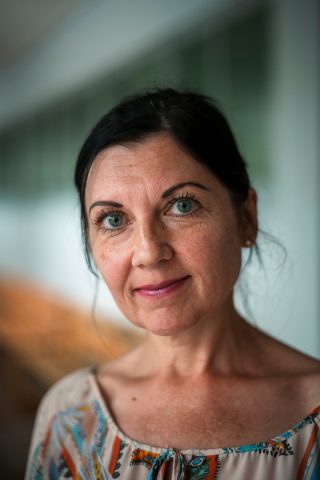 The war changed the teachers' work dramatically. We are not just teachers anymore; we also provide therapy. I took part in a teacher training course organised by Finn Church Aid in June. During the course, we learned about mental health and psychosocial support. Although I have a background in psychology, I learned many new things about how different games and exercises can support children's wellbeing in a crisis.
The war has caused a great deal of stress in children and young people, who react differently depending on their experiences over the last few months. Some have had to endure exhausting journeys to escape, others have lost loved ones or seen things children should never have to see. The most typical symptoms include lack of appetite, sleep disorders and difficulty concentrating.
In summer clubs, we have used various therapeutic tools, such as arts and crafts. At first, drawings were very dark-coloured, with soldiers, guns and missiles. Over the weeks, more colour, sunshine and flowers began to appear. Many have lost trust in the world, and with the clubs we try to provide them a place where they can feel safe. In one of the exercises we do, children are asked to fall backwards and trust their friend to catch them.
As a psychologist, I know that support should be offered urgently after a traumatic event. The longer children and young people have to wait, the more difficult it becomes to deal with the mental scars. But I am hopeful, because I am here now, doing something for them, and because we have received a huge amount of support from Finn Church Aid. We are deeply grateful for that."
"I feel much better now that we do things together"
Sophia, 14, student

"The best thing about summer clubs was seeing my classmates and friends. Nothing has been completely normal for a long time. First we had to study at home a lot because of the coronavirus pandemic, and then the war began. During the attacks, we just wanted to go somewhere and hide. I've noticed that I feel much better now that we do things together. Working together and talking with others about how we feel and what we think has been extremely helpful.
At first I was hesitant about the clubs because I was afraid they would involve traditional lessons where teachers wanted us to get things done. But I was wrong – it's been really relaxed here and the teachers cheer us up. They organise fun activities for us, and we play ball games. What I liked most was the discussion club, where we played democratic decision-making. We learned how to negotiate and make compromises.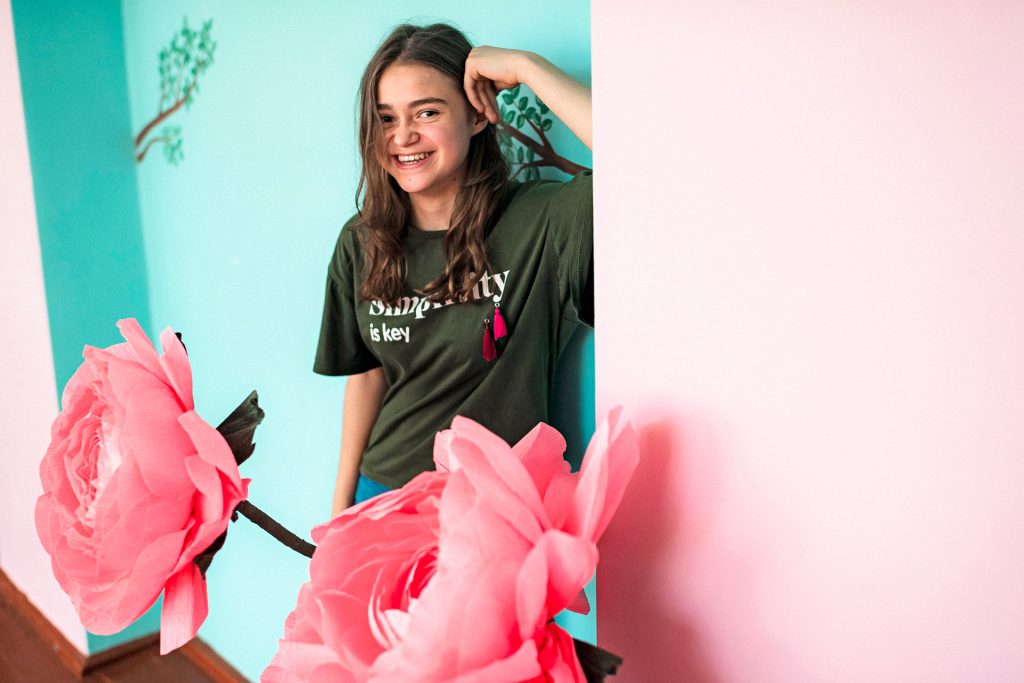 Although life is more normal now, we are still afraid that something bad might happen. Many adults do voluntary work. Like them, we want to do something to make things better. When I'm here in the summer club, I feel like we are doing something for the common good.
Before the war, I had many dreams about what I wanted to do in the future. All I can think about now is that I wish we were at peace. It is difficult to focus on other dreams. Being in the company of other people my age makes it easier to put up with the situation. At home, it was much more difficult.
I hope that instead of distance learning we can soon go to school like we normally do. We just want to be together."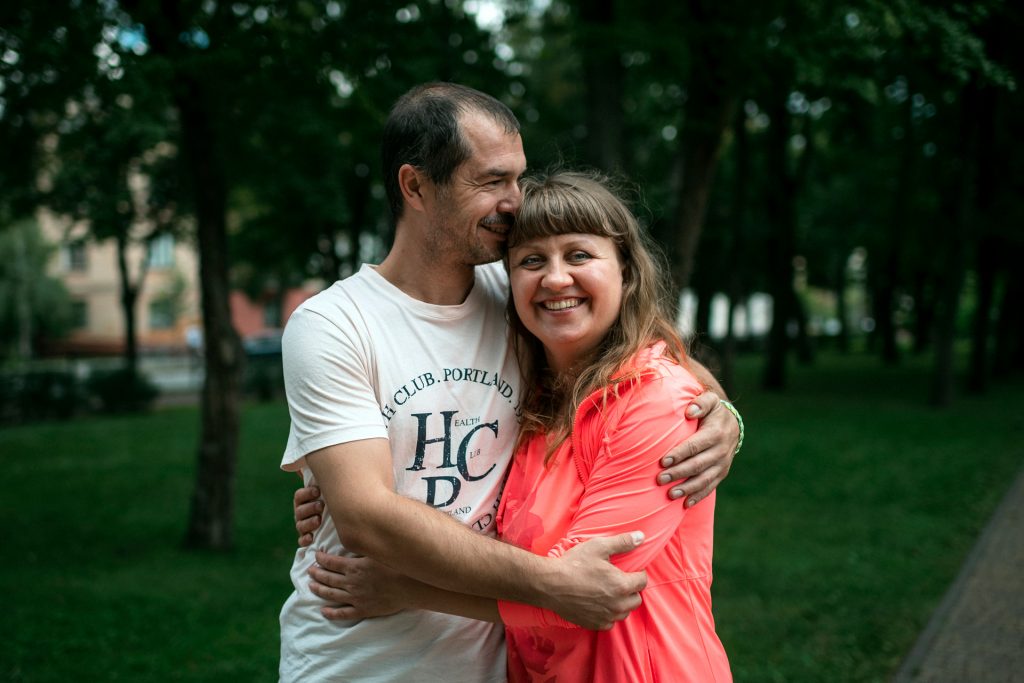 "The summer clubs were a huge relief for us parents, too"
Tanya Slautina, mother

"War has touched every aspect of our lives. The worst months in Chernihiv we were isolated in our home. Fear, explosions and panic were our daily companions. Fortunately our children did not see anyone dying, but they were quiet and sullen. All we could think about was survival.
Our home is OK, but others were not so lucky. We organised a collection for clothes and other necessary items to help other families. Before the attack I worked as a bank clerk, but I left my job to be able to help my children and our community. The stress and fear brought us closer together.
We all need help with our children, and the summer clubs were a huge relief for us parents, too. Our children Anastasiya, 6, Valeziya, 10, and Maksim, 12, have been going to the summer clubs for six weeks.
Our daughters beam with pride as they show us their drawings and crafts. Our son enjoys sports. For them, having the opportunity to learn new things and become inspired is and will be extremely important. They need to be able to think about something other than the crisis, and spend time with people their own age. Seeing our children happy, playful and smiling again is the most precious thing for us parents. It gives us a strength and keeps us going."
The summer clubs were organised in cooperation with FCA's partner organisation DOCCU in July-August 2022. DOCCU is a professional Ukrainian NGO specialized in education and human rights.

Text: Erik Nyström
Photos: Antti Yrjönen