From refugee settlement to graduation gown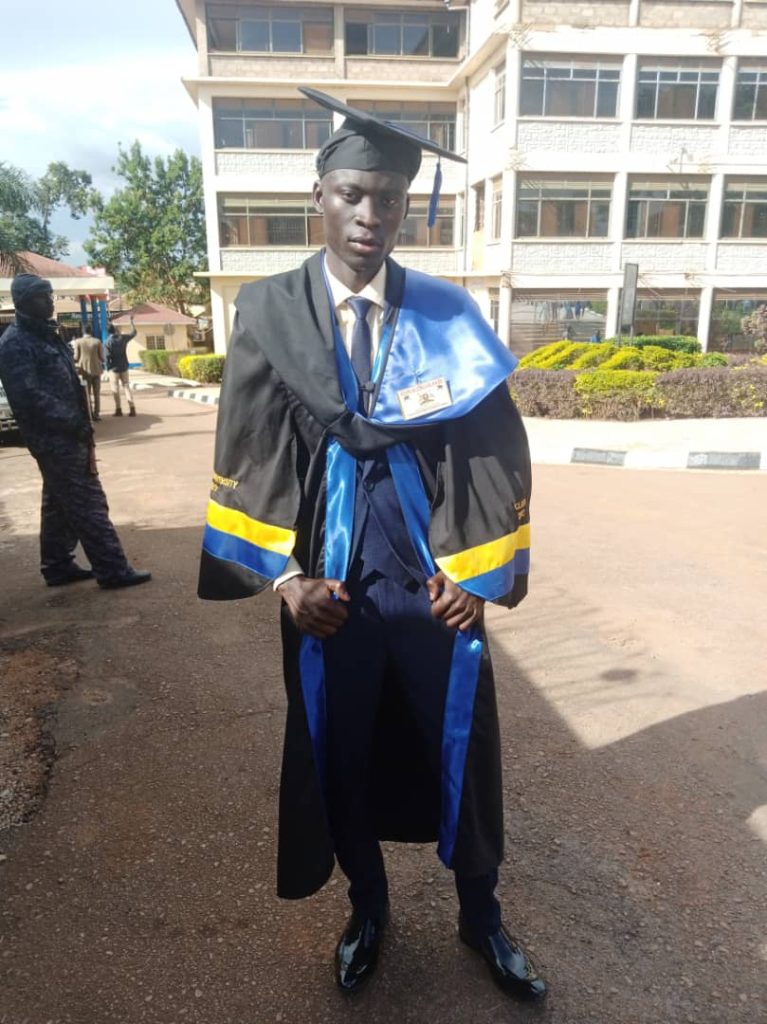 Peter Salah Sam Luka is a 27-year-old South Sudanese national living as a refugee in Uganda. His journey towards higher education was made possible through a scholarship provided by FCA, funded by UNHCR.
IN 2013, PETER'S UNCLE, who resided in Uganda, extended a life-changing invitation to Peter to attend school in Koboko district, Uganda. After successfully completing his secondary school, Peter returned to South Sudan in 2015.
But in 2016, his life took an unexpected turn as conflict overrun their homeland, forcing his family to return to Uganda as refugees. Peter's family of six children and his mother found their new home in Uganda's Bidibidi refugee settlement.
Grief to graduation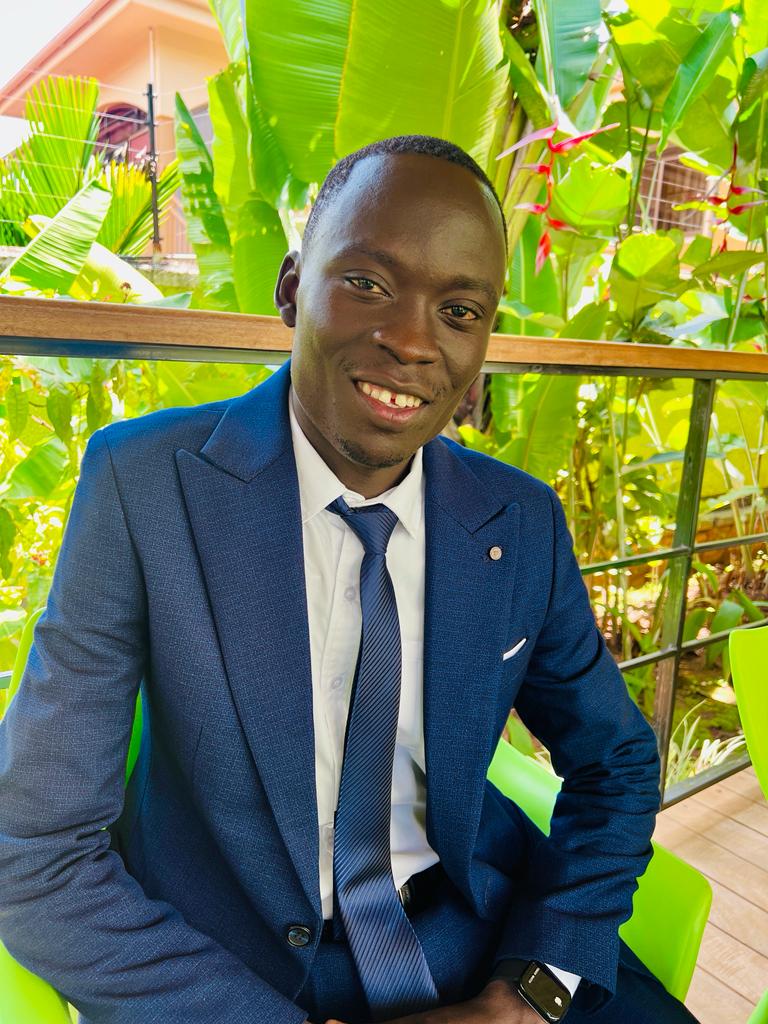 In his smartly tailored blue suit and shiny black shoes, Peter radiates confidence and happiness. His recent graduation with a degree in Business Administration, is a testament to his steady determination and is a source of immense joy to him.
For Peter, the path to university education was once nothing more than a distant dream. The loss of his uncle, shortly after he completed secondary education, left him facing overwhelming obstacles. Even upon receiving his exam results, he hesitated to apply to any universities.
"I am the first in my family to complete A levels, and I had a burning desire to continue my education. However, the weight of financial constraints left me feeling despondent."
He adds, "I was genuinely afraid and heartbroken when my uncle passed away. He wasn't a wealthy man but a modest taxi driver, and yet he managed to provide for his eight children, his wife, and me."
Peter returned to the refugee settlement and as luck would have it, he found an advertisement for FCA and UNHCR scholarships. With determination, he hand-delivered his application to the FCA Yumbe office, hoping for an opportunity. Three weeks later, he was excited to receive news of his shortlisting and an invitation for interviews at the Refugee Welfare Committee offices.
Out of 120 applicants, only 50 were fortunate enough to receive an in country-scholarship opportunity from the National Association of Partners (NAPS) under UNHCR funding, a program implemented by FCA. Reflecting on that moment, he shares, "this phone call marked an important turning point in my life. I had once thought my educational journey had reached its end, but here I was, rekindling my hopes and dreams."
Fully funded scholarship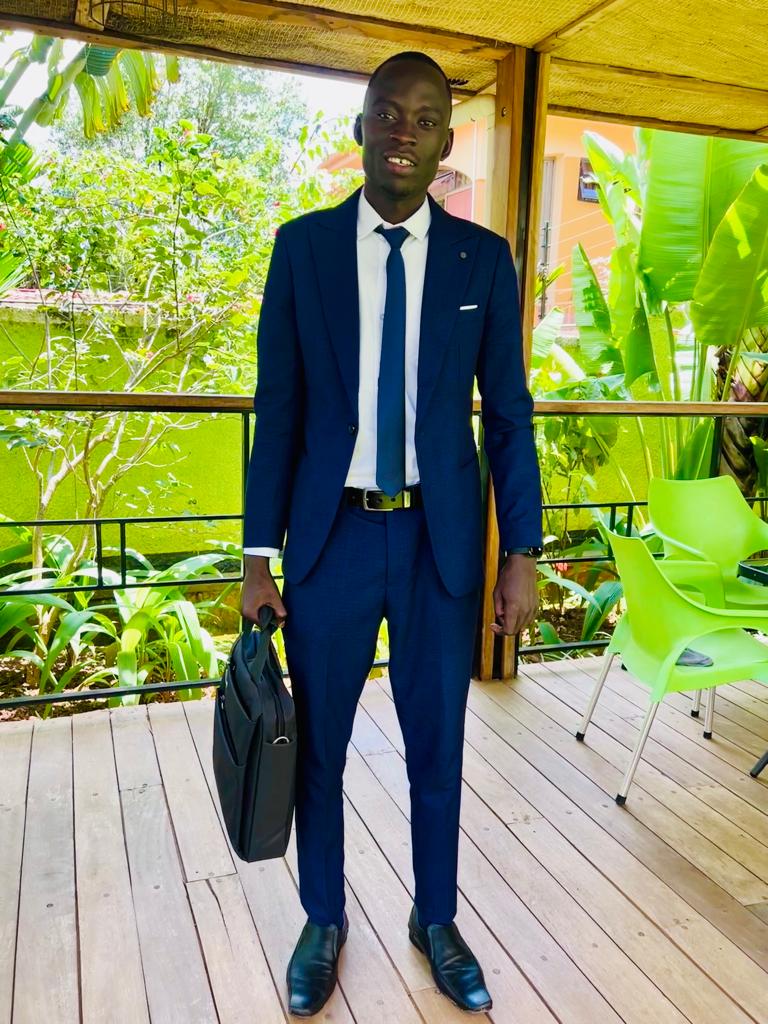 Peter's undergraduate scholarship was fully funded, granting him the opportunity to enroll in a prestigious university. With guidance from a friend who was already studying at Nkumba university, Peter gathered the information needed to apply for a degree in Business Administration. He was admitted in the August 2018 intake.
"For the first time in my life, I could focus on my studies without the burden of worrying about tuition, food, accommodation, school supplies, transportation, and other uncertainties. FCA and UNHCR wholeheartedly provided for me, allowing me to study with dignity."
Peter's friends, who were also recipients of the scholarships, pursued their education at Uganda Christian University and Uganda Martyrs University and are now in their final semesters.
"I am deeply thankful to FCA for recognising individuals like me and providing a chance to benefit from these life-changing scholarships. I also extend my heartfelt appreciation to NAPS-UNHCR for their unwavering commitment to funding our education," says Peter
First of his family
Through FCA's efforts, secondary schools in Bidibidi, create opportunities for continued learning and higher education for those who aspire to further their studies, like Peter.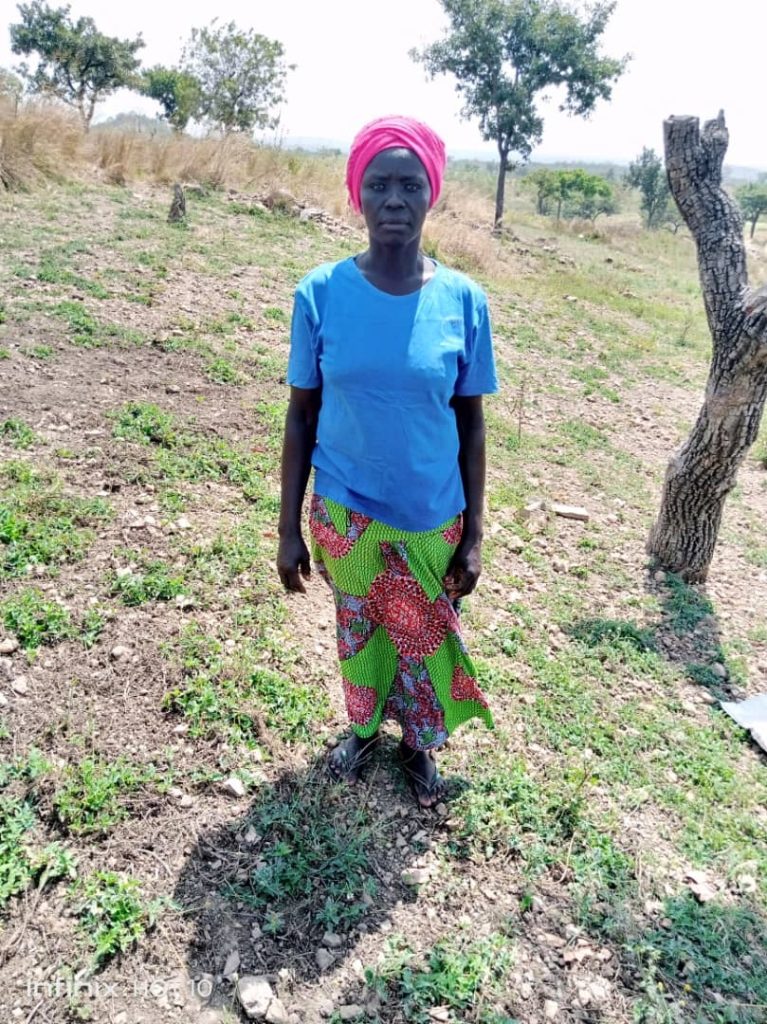 "I am living proof that it's not over until it's over. I remain committed to advocating for education within refugee camps, aspiring to rewrite the narrative for the better," he continues.
Peter's mother, Lorna Koropo shared her own happiness, saying, "I couldn't be present at his graduation, but I plan to prepare a special feast for him when he returns to Bidibidi. He is our first child to progress beyond secondary level school."
Peter, meanwhile, is looking ahead with anticipation: "I eagerly await the opportunity to join the job market, to become self-sustaining, support my family, and embrace new and better opportunities."
Learn more about FCA/UNHCR scholarships
Text and photos by Kadlah Nabakembo