19.4.2023
Breaking barriers: FCA Uganda ensures access to education for children with disabilities
Leticia Kanyere is a 14-year-old deaf student. She came to Sweswe Special Needs Education (SNE) Unit after her family heard about their inclusivity scheme. She now stays at the boarding school facilities with her friends, and loves it.
Children with disabilities in refugee settlements are especially vulnerable to stigmatisation, exclusion, isolation, and violence. These barriers limit their abilities to access education, essential services, form relationships with their peers, and foster psychosocial well-being.
"I like the school because it's easy to make friends. We easily understand each other because we use the same language. In my village, only a few people understand sign language so it's hard to communicate," says Leticia, who is doing well in class and wants to become a hairdresser in the future.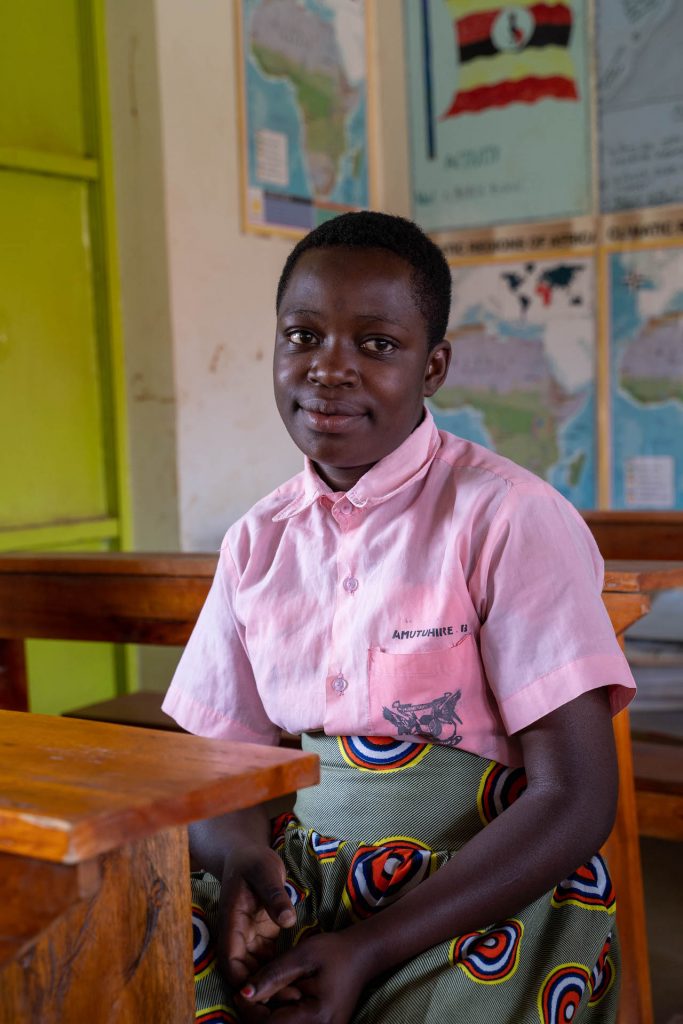 In order to provide inclusive education, Finn Church Aid (FCA) constructed a fully-fledged Special Needs Education Unit at Sweswe Primary School in Kyaka II refugee settlement. The unit was a big undertaking and came together thanks to funding from several donors. The Ministry for Foreign Affairs of Finland paid for the unit itself. Then, the U.S department of State, Bureau for Population, Refugees and Migration (PRM) supported the construction of a fence around the SNE unit to enhance the safety of the learners. Finally, the UN Refugee Agency (UNHCR) supports operations in the school.
The support provided to the SNE unit enhances closer supervision, opportunities for safeguarding, and the ability to identify and address children's psychological, social, and medical needs. This fosters an inclusive environment where learners can stay in school and feel supported.
The facility launched in 2022 and supports learners from both Kyaka II and the neighbouring Rwamwanja refugee settlement. It opened its doors to children and adolescents with disabilities from host and refugee communities, bringing enormous relief to both the children and their families.
Alex Dusabe, 16, also enjoys coming to school. "I used to have many challenges back home but when I came to Sweswe SNE, I made friends with the teachers, and they support me," he says.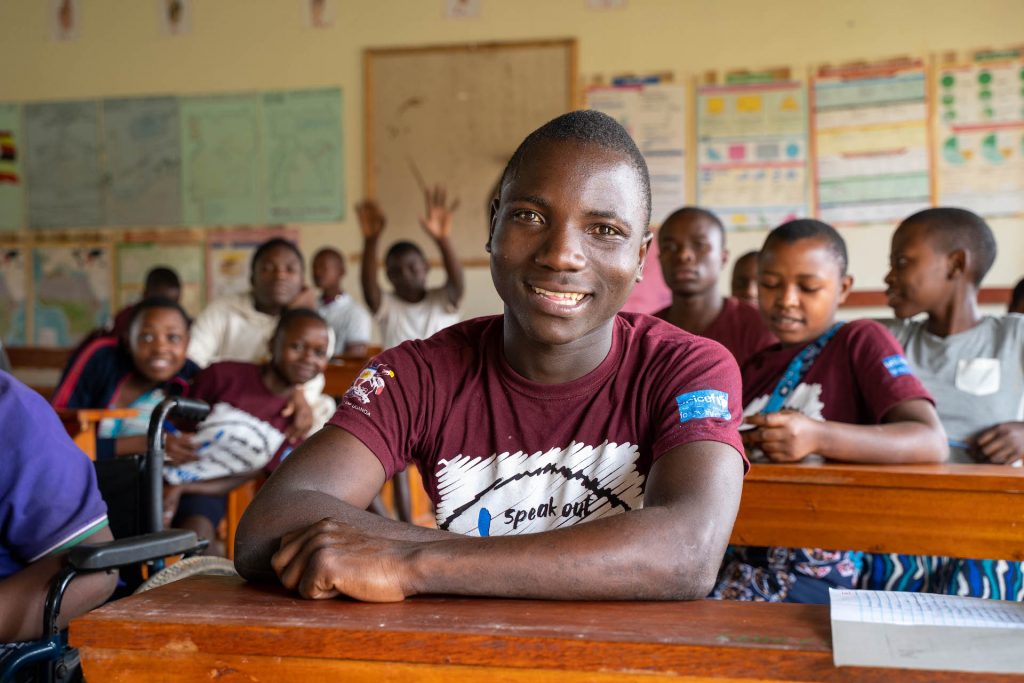 Finn Church Aid trains teachers at the facility in special needs education and management so they can both engage with and take care of the learners.
The inclusive environment at the school makes it possible for learners with special needs to stay in school. The blocks at the facility have been constructed with ramps and rails and are accessible by wheelchair. The classrooms are brightly lit to help the visually impaired. Further improvements are planned to make students' lives easier.
"The toilet facilities are near the dormitories and far from the dining hall. I would be grateful if we could get a boys' toilet facility closer to the dining," says Alex, who has a physical disability.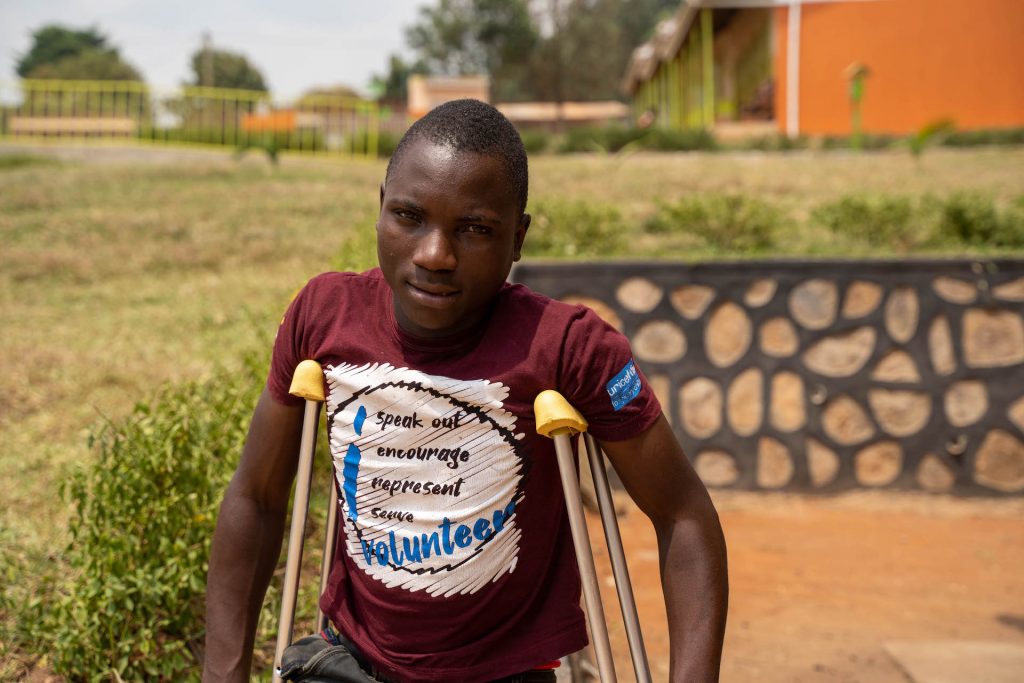 Living Businge, a sign language teacher at the SNE Unit with 12 years' experience, encourages adolescents and children with disabilities to go to school and access their right to quality education.
He's had a long interest in the deaf community and decided to learn sign language so he could better support them as a teacher.
"Inclusive education provides learning opportunities to all individuals and caters to the diversity among learners. Among people with physical, sensory, mental, and intellectual disabilities, exclusion from education is most pronounced. The SNE unit at Sweswe presents a chance to eliminate the obstacles to participation and learning for students with severe disabilities that mainstream education cannot accommodate," says Filbert Idha, the Education Technical Lead at Finn Church Aid.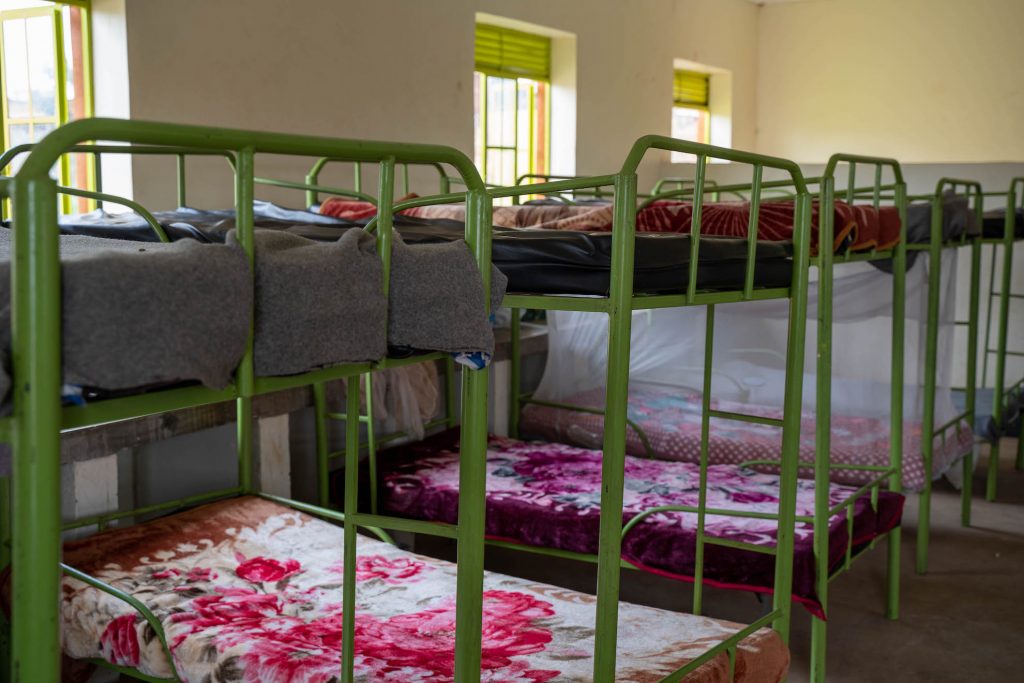 According to Uganda's national Education Response Plan (ERP) for refugees and host communities, only 2% of learners with disabilities are enrolled in school (global average: 10%). Nationally, only 172,864 children with special needs (approximately 2% of total primary level enrollment) were enrolled in primary schools in 2022.
Disabilities among children who are refugees are reported to be mobility, cognition and vision, but most commonly anxiety and trauma related disorders.
Text: Linda Kabuzire