15.11.2023
In Nepal, climate resilience starts with society
FCA Nepal has joined an ambitious new programme promoting climate resilient agriculture in Nepal with a whole-society approach.
AGRICULTURE IS a big part of Nepal. Children like me, who grew up in the eighties and nineties were familiar with the phrase in our textbooks that we are a 'nation of agriculture'.

In those days, 90 % of our population tapped into agriculture as their main source of income, according to 1995's 'Nepal Agricultural Perspective Plan'. These days it's more like 62% according to the National Agricultural Census 2021-22.

Agriculture is still the lifeblood of the nation, but it is affected by two major trends; one is the phenomenon of male Nepalis going abroad to earn better wages and the other is climate change, by which we see uneven rain patterns and unpredictable and more extreme weather.

Both trends have the effect that often women are left bearing the burden for farming, on top of family responsibilities.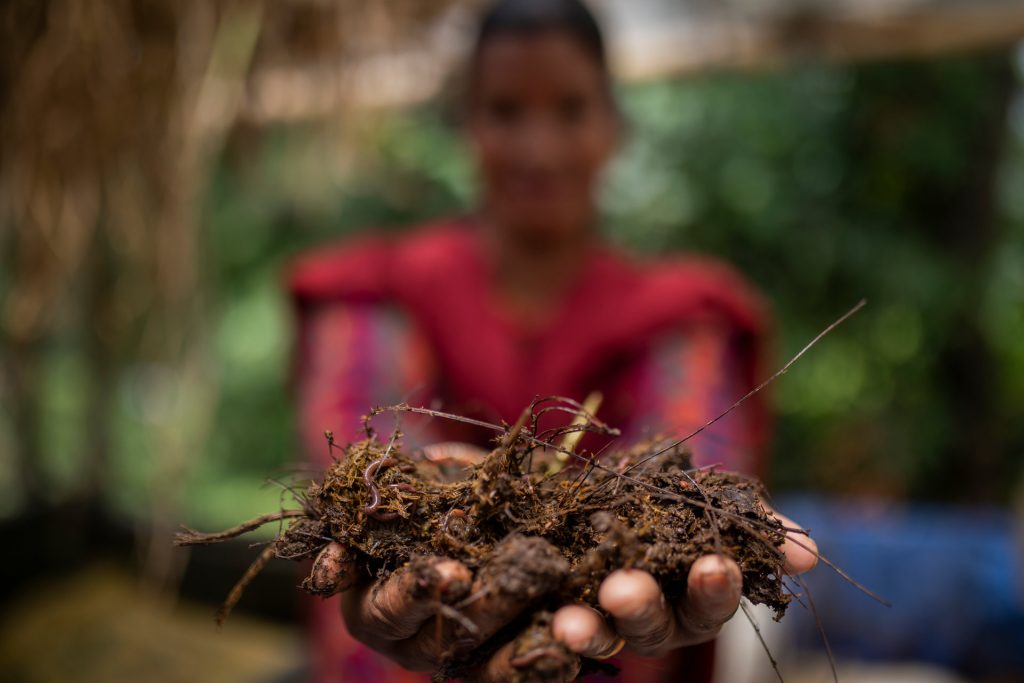 Nepal's climate vulnerability
According to the World Bank, Nepal is susceptible to geological and climate-related disasters, due to its geography and social vulnerability. Increases in soil erosion, landslides, flash floods and droughts – all which climate change drives – especially effect its agricultural sector. Poor rural people, who rely on farming for survival have the most to lose.
FCA Nepal has joined an ambitious new project in partnership with GiZ amongst others, and with funding from the EU and Finnish and German governments, to promote Climate Resilient Agriculture (CRA). Briefly explained, CRA is the ability of any agricultural system to anticipate and prepare for extreme weather and climate change, as well as adapt to, absorb and recover from it. This can be through new techniques and innovations, but also as simple as ancient arts like crop rotation.
The GRAPE programme
The project, known as the Green Resilient Agricultural Productive Ecosystems (GRAPE) programme, helps farmers, cooperations and small business build their climate resiliency in a sustainable way – both environmentally and financially.  
While that means training on agricultural practices, it also means supporting municipalities in integrating climate change into their planning and assisting with information roll-out to the entire region.
Climate Resilient Agriculture is not a common term in Nepal, and we knew that our first step needed to be that of connecting with people, not immediately implementing change. Too many climate response initiatives fail, because they rely too heavily on specialised technology, often brought from outside. We recognised that to change the habits of generations of farmers, we needed a whole society approach.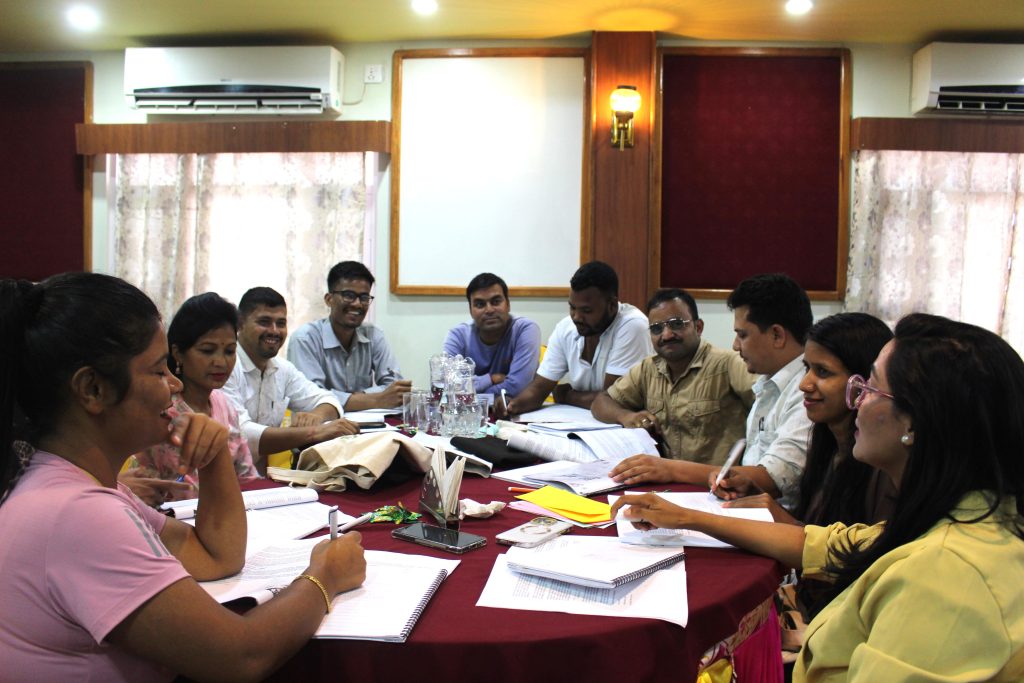 Spreading the message
That's why we started a media training programme targeting journalists in Sudurpaschim and Karnali provinces. While reporters may seem a strange first audience for our project, most of them are closely intertwined with the agricultural community and their stories and already regularly report on the effects of climate change in their areas.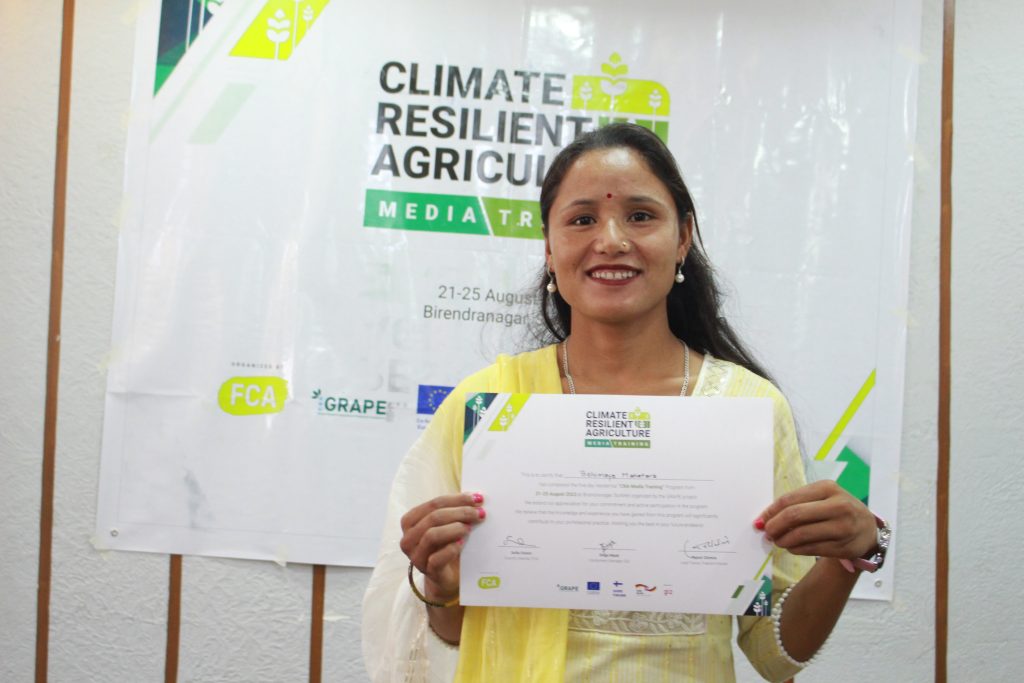 With low literacy levels in the regions, many farmers rely on radio news for their information, so the ability of broadcasters to understand, explain and be excited about the project was key. 32 journalists from various media platforms joined the training with 14 of them receiving an FCA fellowship to continue their support and training on Climate Resilient Agriculture.

Additionally, seven stories both national and local were published about Climate Resilient Agriculture during the training and three more were published later thanks in part to our training.
Engaging civil society
Our next stop was to bring together the widest and most inclusive group of people to form a community of practice, a group that could engage deeply on the topic, raise concerns, share best practices, and find important common ground in moving forward.
We brought together more than 50 civil society organisations including Heifer International Nepal, Plan International Nepal, Save the Children Nepal, World Vision International, Oxfam, Welthungerhilfe and Helen Keller International, amongst others, as well as local NGOs LI-BIRD, CEAPRED and ANSAB.
These organisations meet every two months on the most pressing issues when it comes to climate-resilient and climate-related agriculture, including matters of governance and resourcing.
The first of its kind in Nepal, the group now acts like a think tank, steering the direction of the conversation and maintaining the dialogue on how we achieve climate resiliency in our country.
It's important to us, because true resilience to climate change doesn't just encompass agricultural dimensions, but also sociological ones. We're determined that our project takes in the viewpoints of all affected members of society.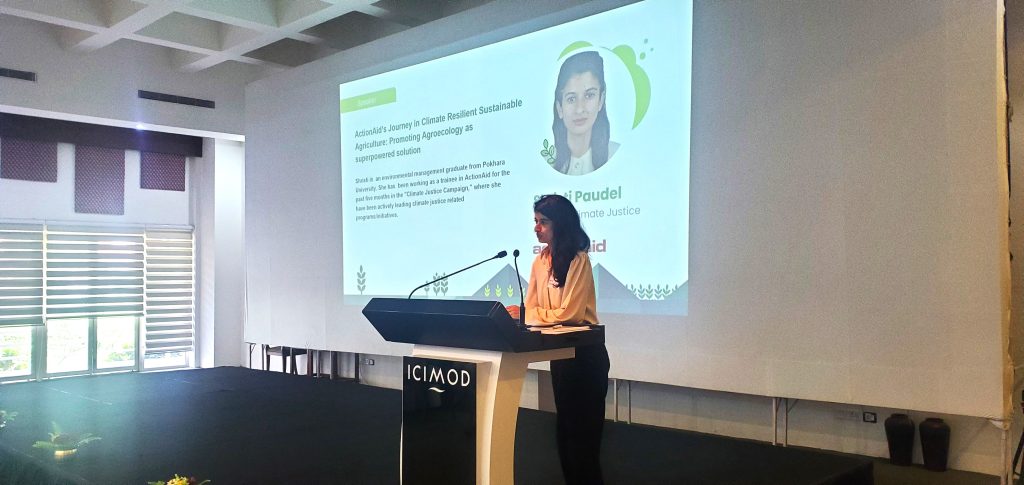 Next steps
While continuing to support the ongoing discussion and training, we will also be acting on the lessons we learn putting together gender and disability responsive Climate Field Schools. These initiatives will support value chain producers from marginalised groups, while assisting agriculture and livestock technicians to reach out to these groups with real and practical help.
We'll also be supporting the production of easily understandable information materials, like infographics and radio shows, so that a wide as possible audience can benefit from proven techniques to make even the smallest of farms climate resistant.
In this way, I hope that Nepalese textbooks continue to reflect our long history of agriculture in the future and its evolution, as it adapts and grows into a new climate reality.
—
Anish Shrestha is a Communication Specialist at FCA Nepal, focusing on the GRAPE programme and Climate Resilient Agriculture.

The GRAPE project is jointly funded by the European Union, the Ministry for Foreign Affairs of Finland, and the German Federal Ministry of Economic Cooperation and Development (BMZ).

Finn Church Aid (FCA) is Finland's largest international organisation working for development and humanitarian assistance. FCA specialises in the world's most fragile contexts and works with the most vulnerable people, within their priority areas.

All photos, unless indicated: Anish Shrestha/FCA