Haiti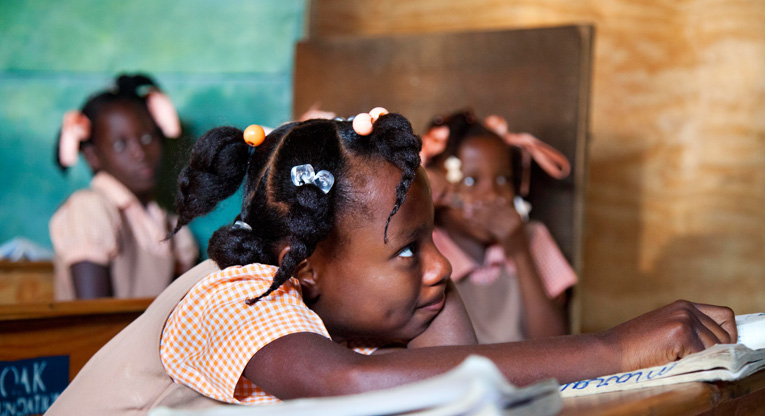 Haiti suffers from massive income disparities, a fragile and non-functioning state, inequality and poor security. Haiti is still struggling to overcome the effects of the 2010 earthquake. Finn Church Aid's Regional Office for Latin America and the Caribbean is located in Haiti.
Finn Church Aid (FCA) focuses its actions on strengthening the education sector, for example by providing children access to school and developing the quality of education. After the 2010 earthquake, FCA has constructed over 340 temporary learning spaces and 14 permanent schools. In 2015 and 2016, FCA will build an additional 10 permanent schools with its local partner and the Haitian Ministry of Education.
All schools built by Finn Church Aid are earthquake resistant and constitute a safe learning environment for the children. The schools have been built in the most devastated regions of the 2010 earthquake. FCA has also provided the schools with supplies, kitchens, water and sanitation. To strengthen the administration and quality of education, school committees have been established in the schools with school directors, teachers, students, parents and the surrounding community as members.
We support teacher training in human rights, gender equality and children's rights. We also provide first aid training and help schools and communities to prepare for future disasters.
We strengthen livelihoods in rural regions of Haiti
Haiti is extremely vulnerable to the effects of climate change. We strengthen the livelihoods of rural communities, particularly their ability to adapt to the effects of climate change, and their disaster preparedness. We also work to sensitise communities and prevent deforestation. In 2013, supported by Finn Church Aid and ACT Alliance, the first climate change platform of Haitian civil society organisations was established and is still operational.
Women's literacy skills and human rights training strengthen women's standing in their communities and support their economic independence. This economic independence is also promoted through savings and loans groups which allow participating women to secure their families' income and the education of their children.